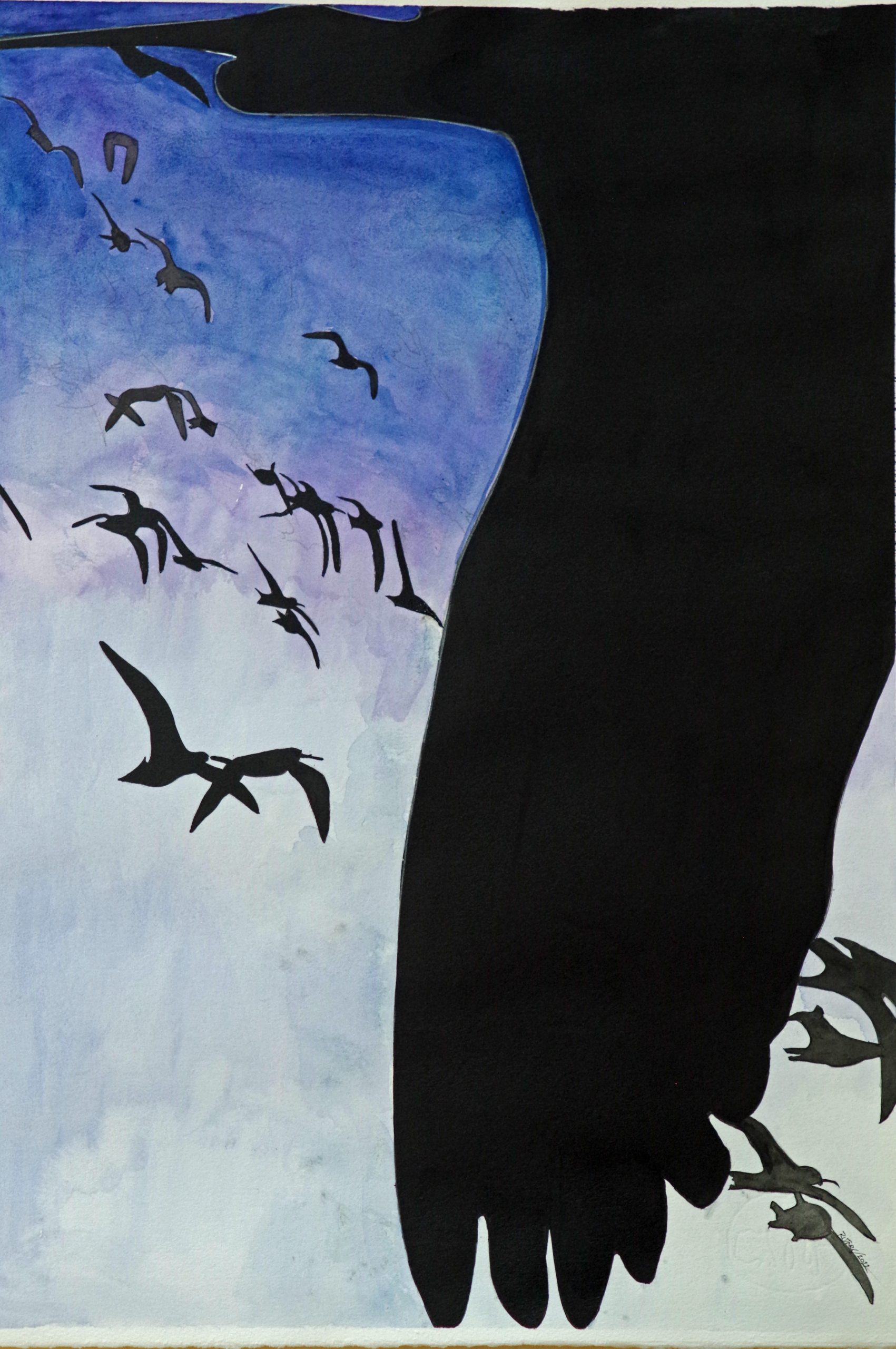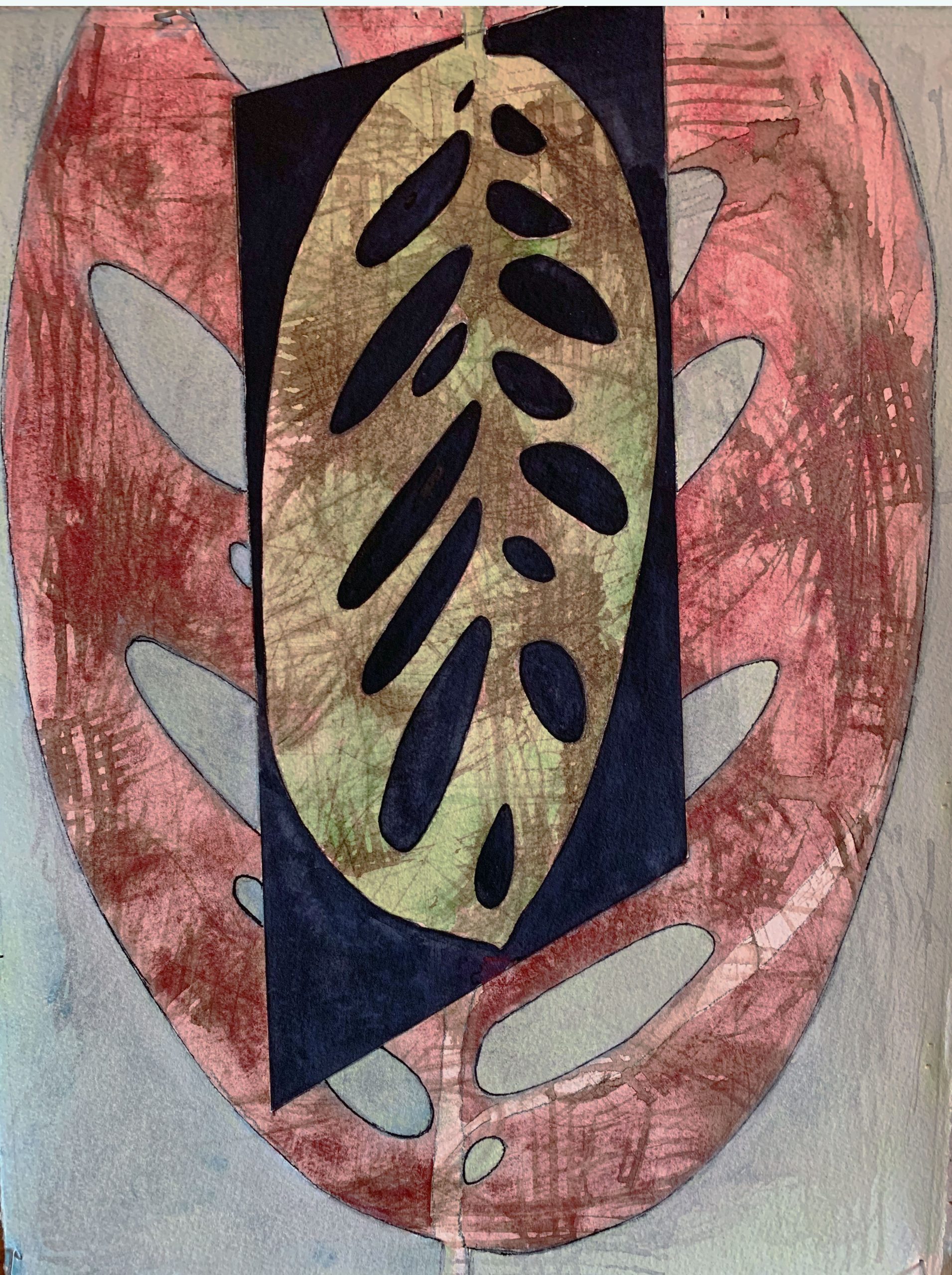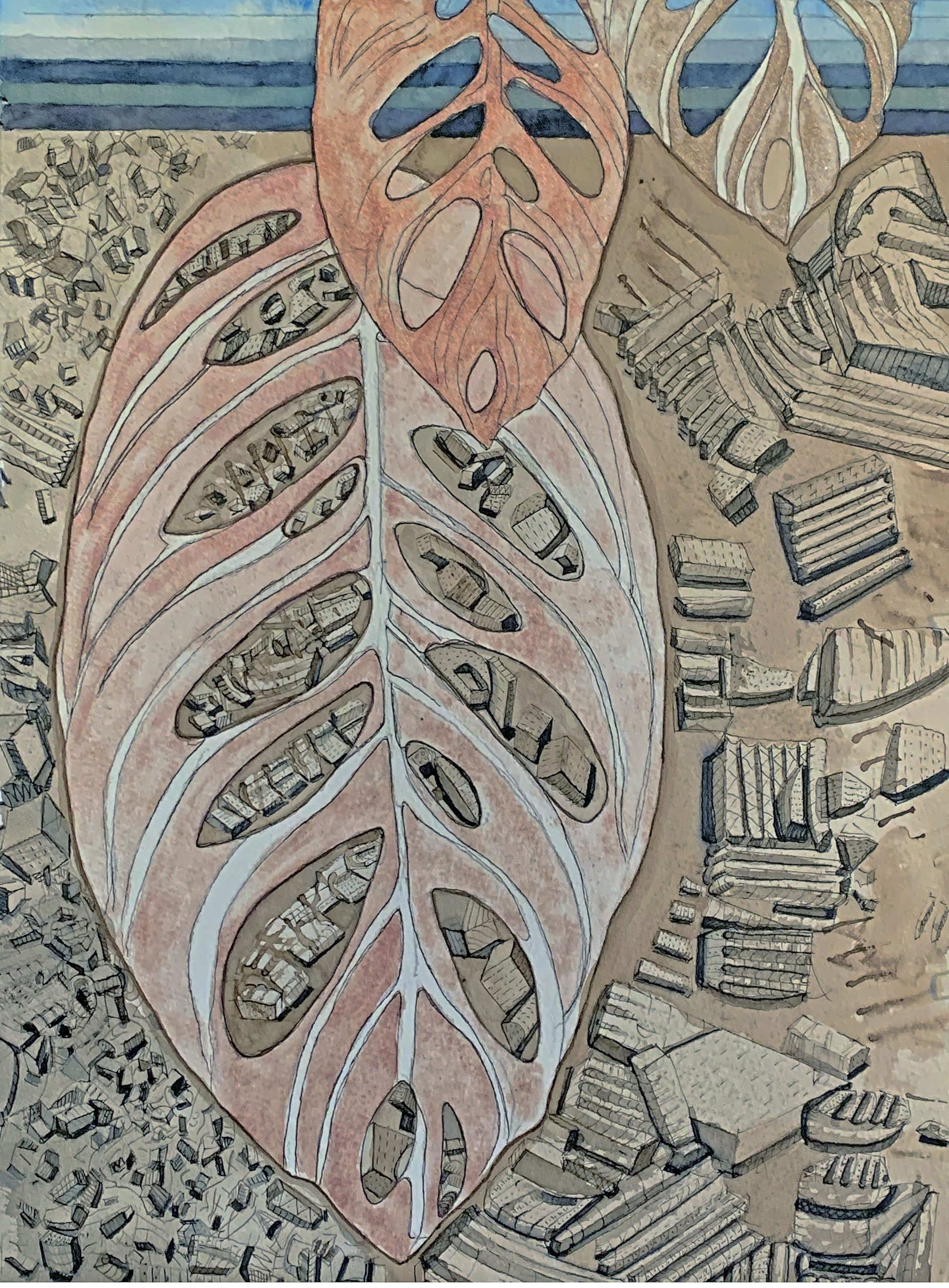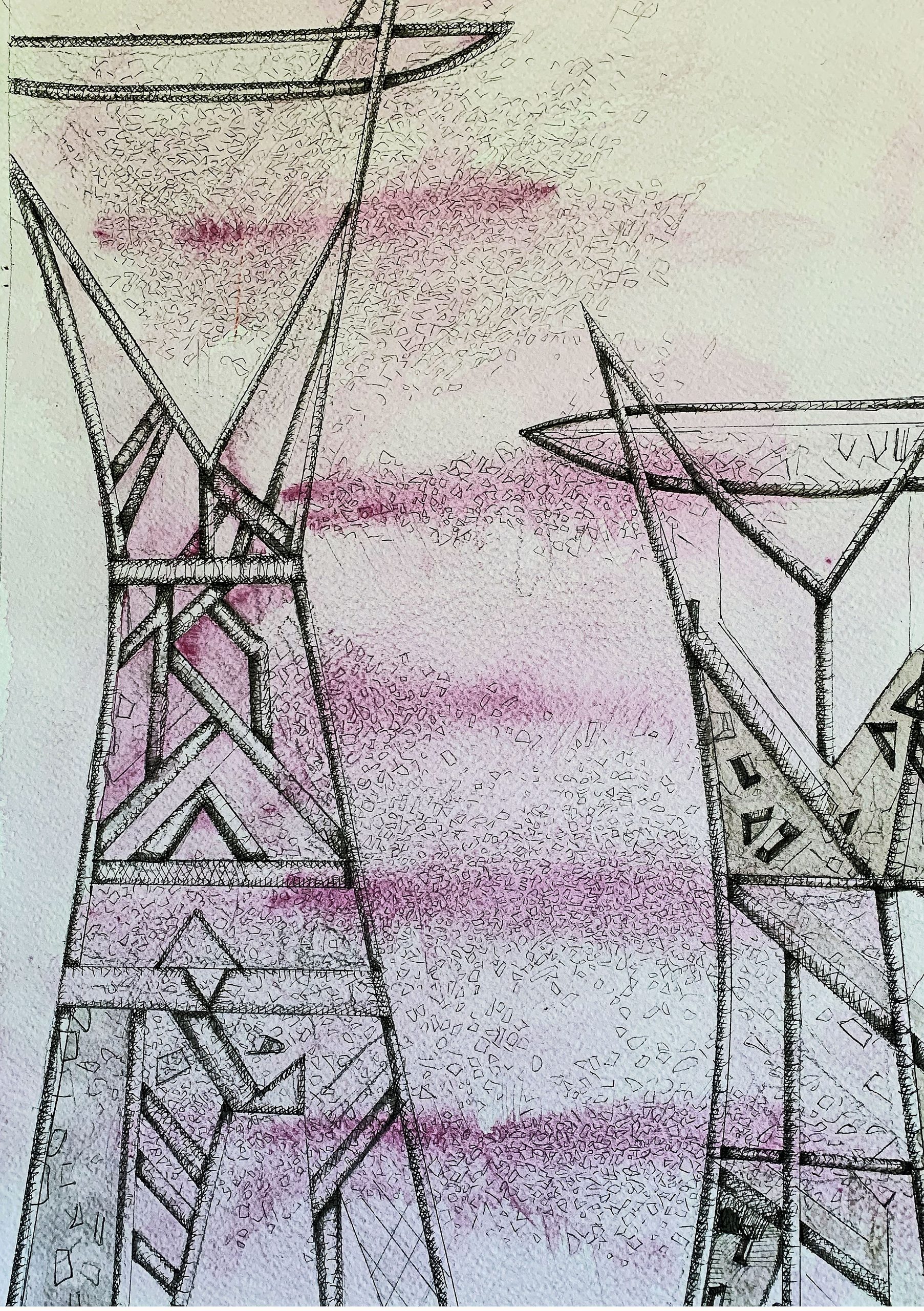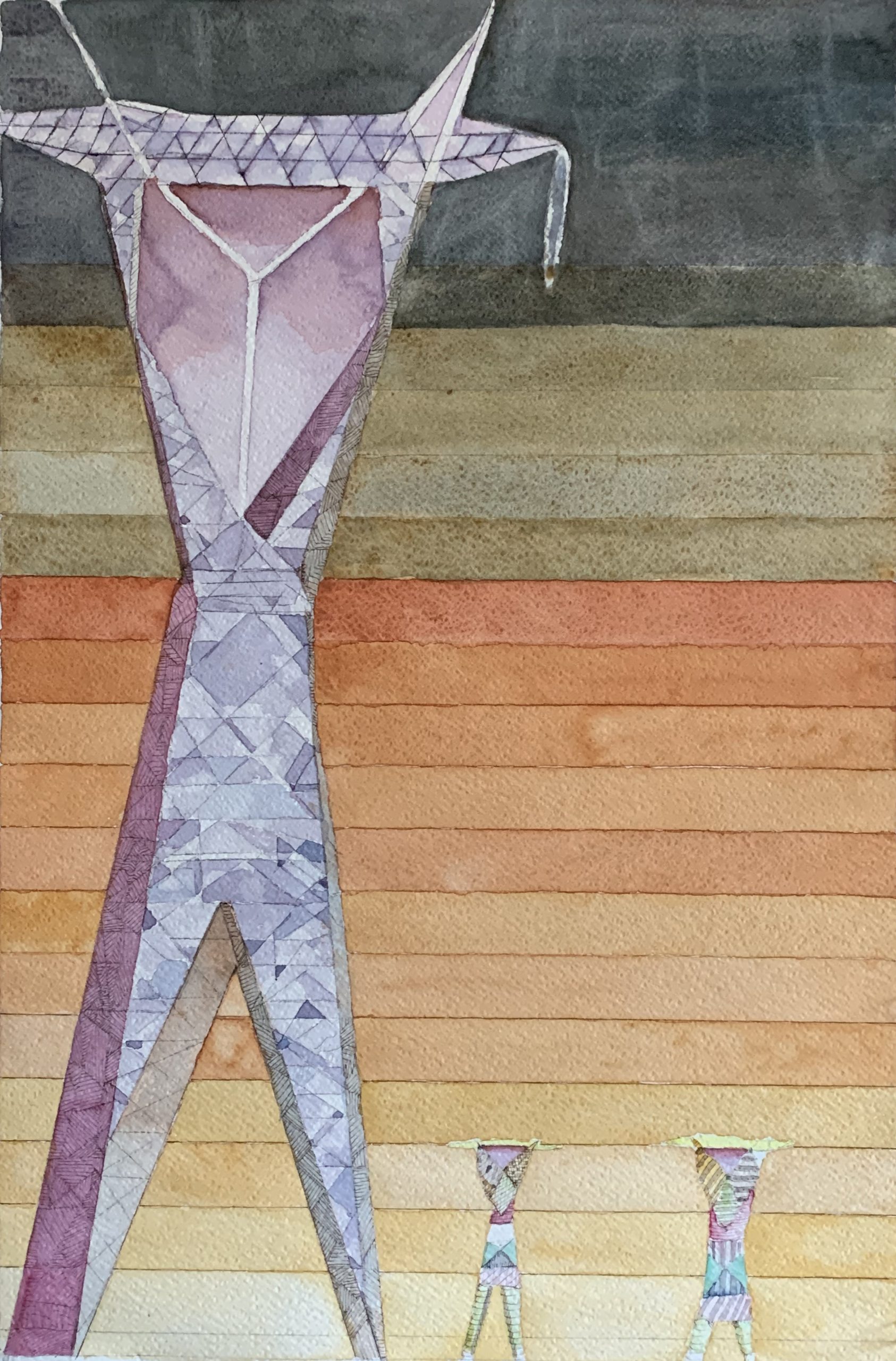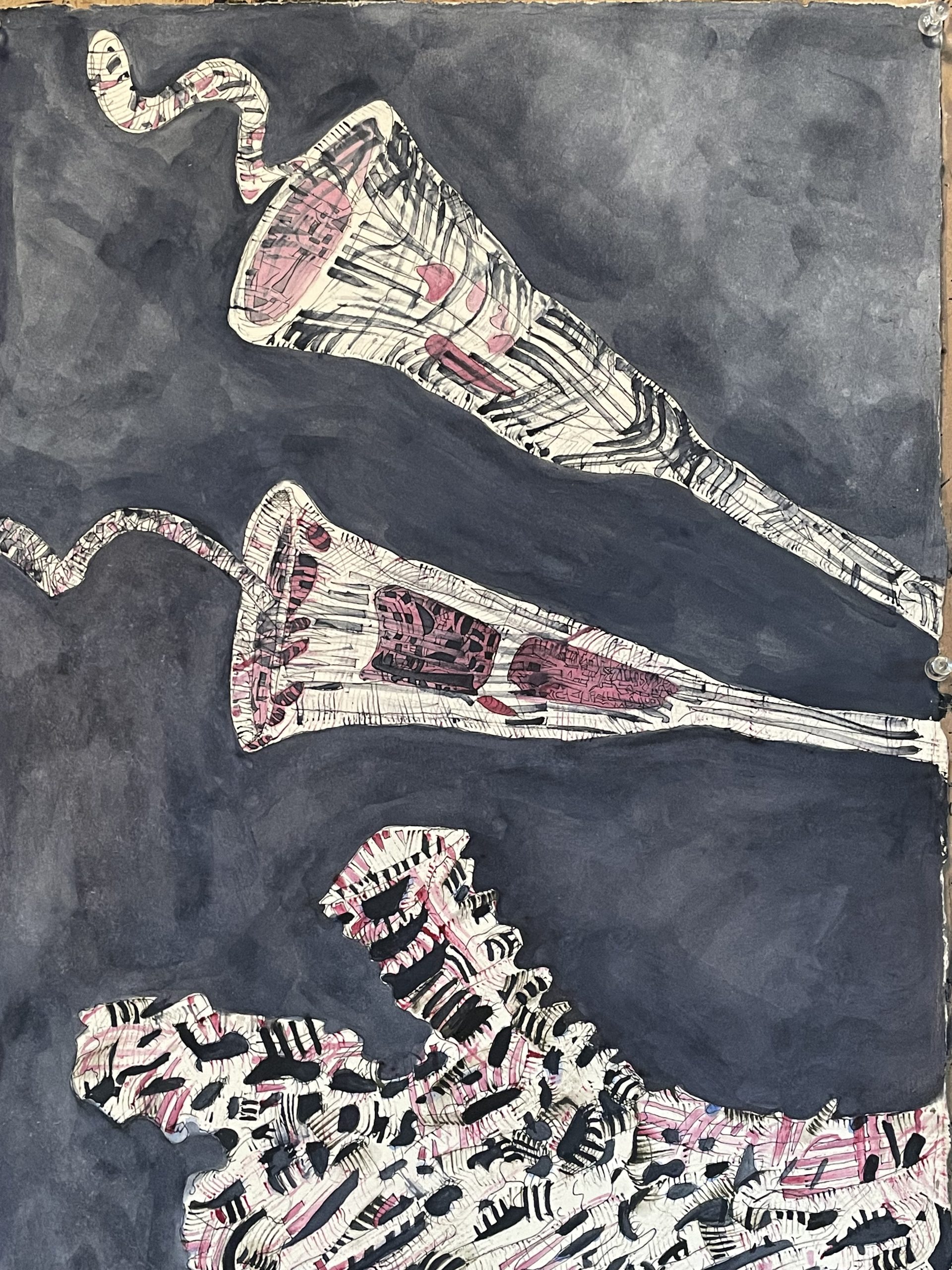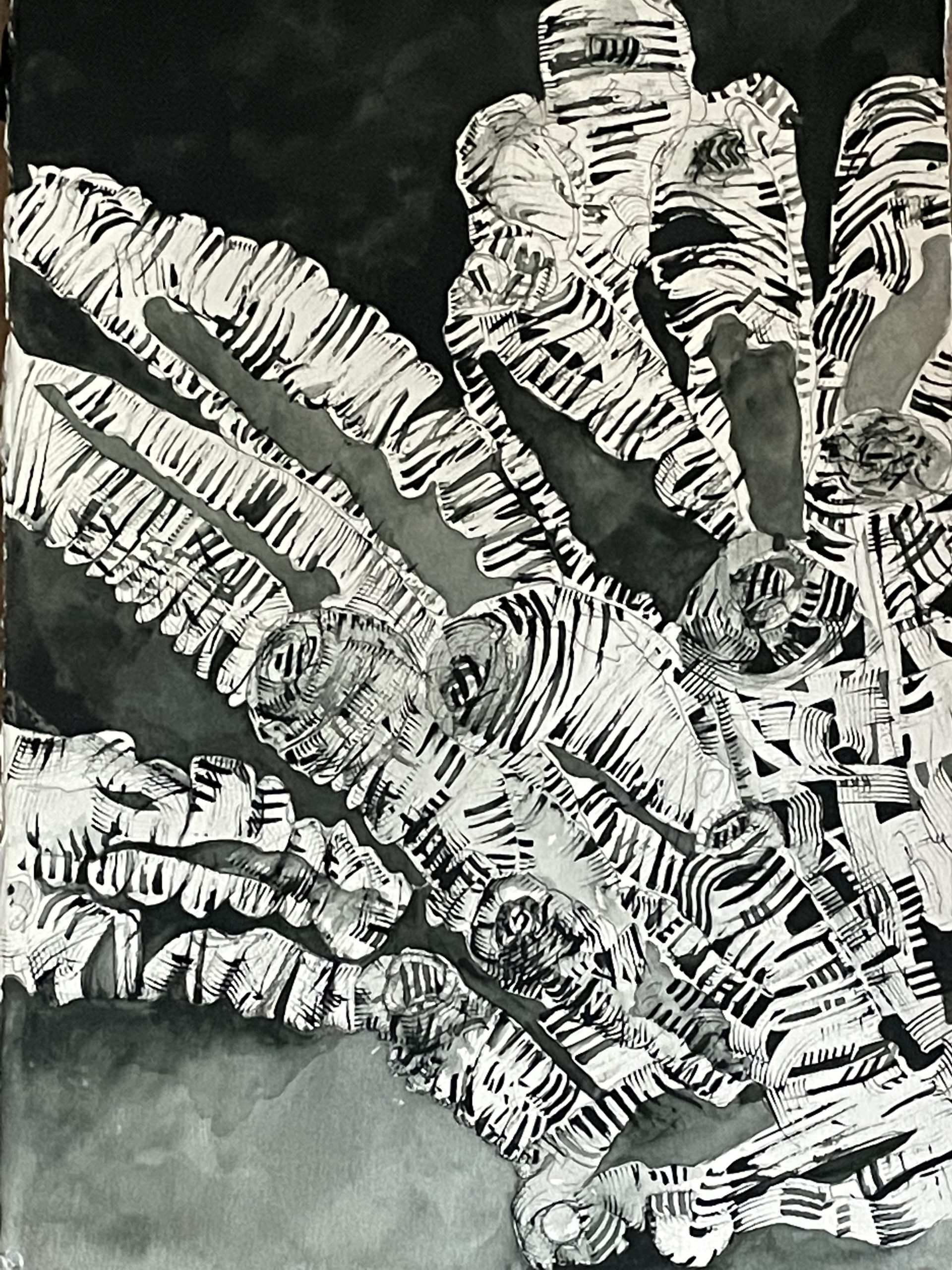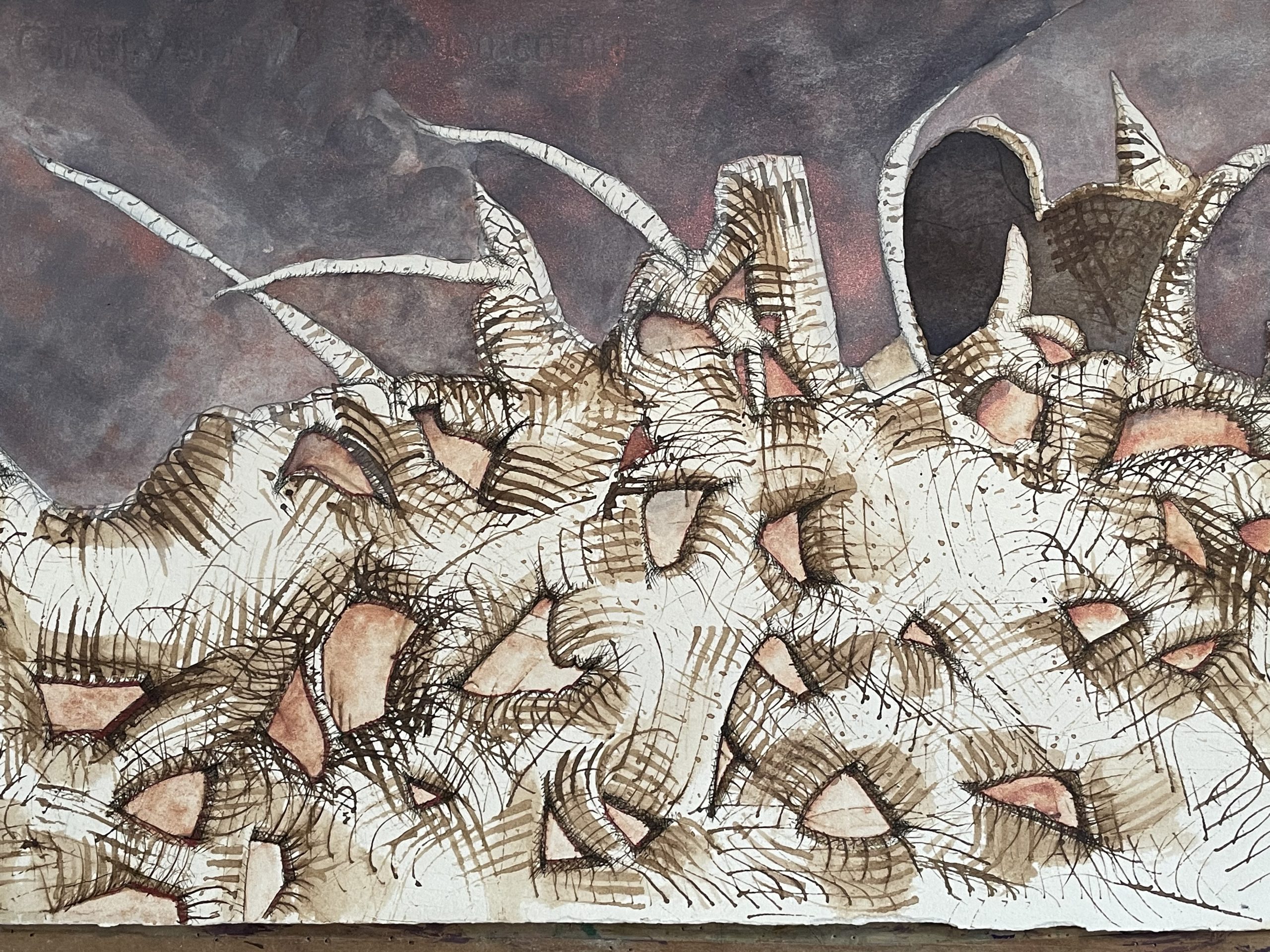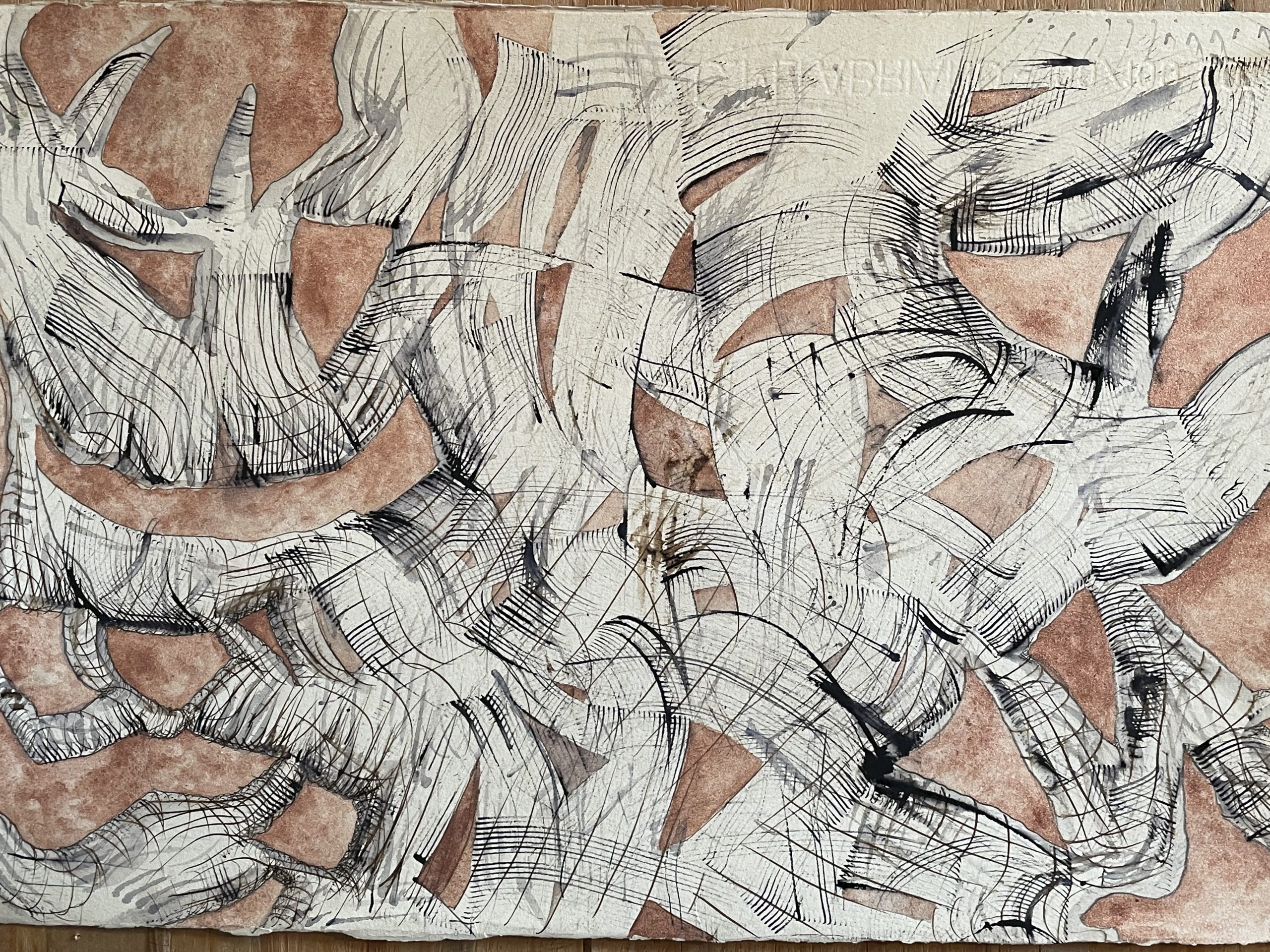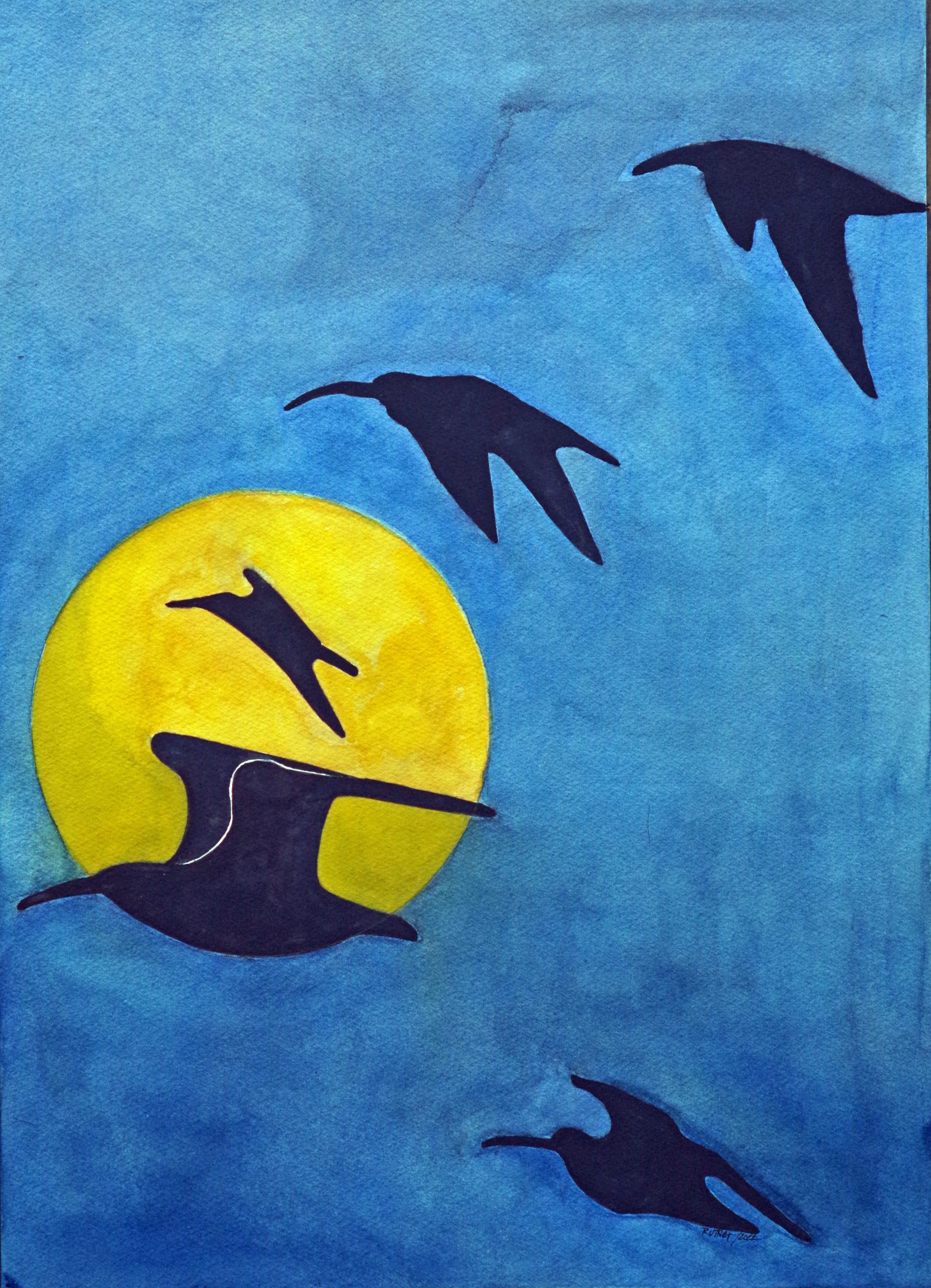 Works
Fear Watercolor Painting 22×15" 2022
Mask Series #10 Watercolor & Ink Painting 15×11" 2020
Leaf City Watercolor & Ink Painting 15×11" 2020
Conversation Series #1 Watercolor & Ink Pen & Brush 30×22" 2006
Conversation Series #2   Watercolor & Ink Pen & Brush 22×30" 2006
No Where Men #1 Watercolor & Ink Pen & Brush 22X15" 2020
No Where Men #2 Watercolor & Ink Pen & Brush 22×15" 2020
Drawing Series #1 Ink Pen & Brush 20×14" 2021
Drawing Series #2 Ink Pen & Brush 20×14" 2021
Drawing Series #3 Ink Pen & Brush 20×14" 2021
Drawing Series #4 Ink Pen & Brush 14×20" 2021
Whimbrels Watercolor Painting 22×15" 2022
 & the Moon
BIOGRAPHY
Richard Rutner is a painter, sculptor and printmaker who currently lives and works in Austin, Texas. He attended the School of Visual Arts in New York City (1965-68), studying painting with Harvey Dinnerstein. As an art student, he was influenced by the Surrealists, adopting techniques such as automatic drawing, decalcomania and frottage to produce a vocabulary of forms in his drawings, paintings and prints. During his time as an art student, he exhibited his work at the 10th Street Gallery, New York City, and Gallery 252 in Philadelphia. 
Rutner transferred to Tyler School of Art/Temple University in Philadelphia to complete his undergraduate degree. In 1970, he was accepted into their graduate program, spending his first year in Rome, studying painting and printmaking under Romas Viesulus. Upon returning to Tyler, he studied with David Pease and Stephen Green, and received his Master of Fine Arts in 1972. After graduate school, he moved back to New York, and joined a pioneering group of artist loft dwellers in Brooklyn. He also taught painting at several universities, including School of Visual Arts, and exhibited his works at galleries and museums on the east coast and in Canada.
Rutner had traveled to Puerto Rico and Europe in the late 1960s, and traveled to Japan, Thailand, Singapore and Taipei in 1972. His travels led him to experiment with imagery inspired by the landscape and flora of each country as well as color pallets, shapes and patterns found in the local art and architecture. He became fascinated with shape and negative space, and with the use of translucent and opaque colors to distinguish forms.
During the 1970s, Rutner's works were exhibited in solo and group shows in New York, including the Vorpal Gallery in SoHo (1977-82). In the 1980s, he began traveling to the southwestern U.S., including Texas, New Mexico and Colorado, as well to Mexico. Here, he discovered the masks of Native Americans and of the indigenous peoples of Mexico, their symbolic meanings and spiritual connections to the world around them. These experiences led him to create several series of graphite drawings, pastels, and metal wall-reliefs depicting original mask imagery. These series were shown in solo and group exhibits (1991-97), including Gallerie Varisella, Nurnberg, Germany; Fourteen Sculptors Gallery, SoHo/NYC; Nassau County Museum, Roslyn, NY; MetLife Windows at the MetLife building, NYC; and the touring show, "Selected Works" for the National Drawing Association. 
Rutner moved with his wife and children to Austin, TX in 2001. He continued exploring the mask imagery in pastel landscapes and pen-and-ink drawings (2005-07) and also created his "Gizmo Convention", a watercolor series of surreal architectural landscapes (2010). He developed his "Hebraic Fragments" series of pen-and-ink drawings, oil paintings and woodblock prints (2017-19) after traveling to Montreal, Canada, where he was inspired by an extensive museum show of Chagall's works. His recent work, "Leaf Series", was a product of limitations during the pandemic and renewing his interest with printmaking at Flatbed Press/Austin. His new "Swamp Series, NOLA" was created after several trips to New Orleans. 
In Austin, Rutner's works have been shown at "The J Gallery"/Dell Jewish Community Campus, the Jones Center, ArtWorks Austin Gallery, and in the East and West Austin Studio Tours. His work was recently featured in the Marfa Open Art Festival, Marfa, TX and will be exhibited at Central Machine Works, Austin, in May, 2023. He has also shown his work in online galleries, including PaintingsDirect.com, PostPicassco.com, and more recently, Saatchi Art.
In addition to being a visual artist, Rutner has been an arts administrator and curator. He was Coordinator of Cultural Arts for the Cultural Arts Department, Town of Hempstead, NY from 1972 -2001. He served as president of the advisory board for Emily Lowe Gallery at Hofstra University, NY, was a panelist for the New York State Arts Council and New York Foundation for the Arts, and was guest-curated for the Japanese M.Okada Cultural Services Association gallery in New York City.
REVIEWS/PUBLICATIONS:
East Austin Studio Tour, Catalogue, p 236(ill.), 2022
East Austin Studio Tour, Catalogue, p 43(ill.), 2021
East Austin Studio Tour, Catalogue, p 141(ill.), 2020
Almost Real Surreal So Real Things, Issue 18, p34(ill.), 2020
East Austin Studio Tour, Catalogue, p 178(ill.), 2019
East Austin Studio Tour, Catalogue, p 134(ill.), 2018
West Austin Studio Tour, Catalogue, p 70(ill.), 2017
Art.Work Gallery Blog. Austin, TX. 2017
East Austin Studio Tour, Catalogue, p 176(ill.), 2017, Catalogue, p. 28(ill.), 2016
True Color Newsletter, PaintingsDirect.com, January 2008, September 2002, June 2000
Open Doors – 1996 companion volume to BWAC Open Studio Tour
Quick Center for the Arts – Fairfield University, September 10, 1993
OIA Newsletter – Fall 1993
Nurnberg Zeitung – Frankischer Kurier, April 16, 1987,
Nurnberg Nachrichten – April 22, 1987
The Prospect Press – Diane Miller Himmelbaum, February 1985
Sun Storm – "Paintings and Politics", Lois Di Cosola, February, 1983
Newsday
     Marilyn Goldstein, May 16, 1988, 
     January 29, 1987
     Weekend Part III, February 6, 1987
     "Hempstead Shuffles Its Space", Susan Soper, September, 1977
The New York Times
     Helen Harrison, March 15, 1987, "Discoveries and Jolts", 
     David L. Shirey, September 18th, 1977
arts magazine – Janice Glander-Bandyk, October 1977, Hedy O'Beil, October 1976
Phoenix Magazine –John Blackmore, October 1976