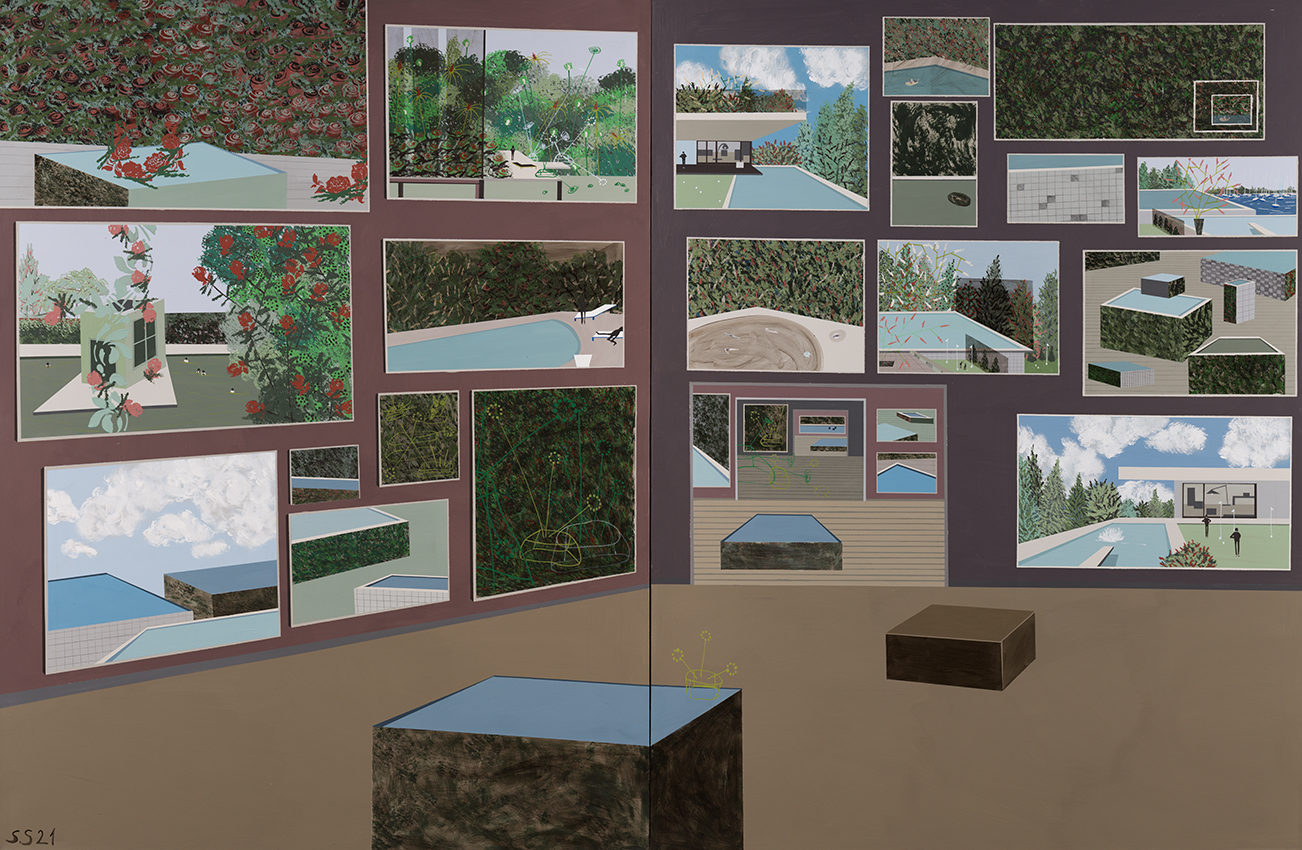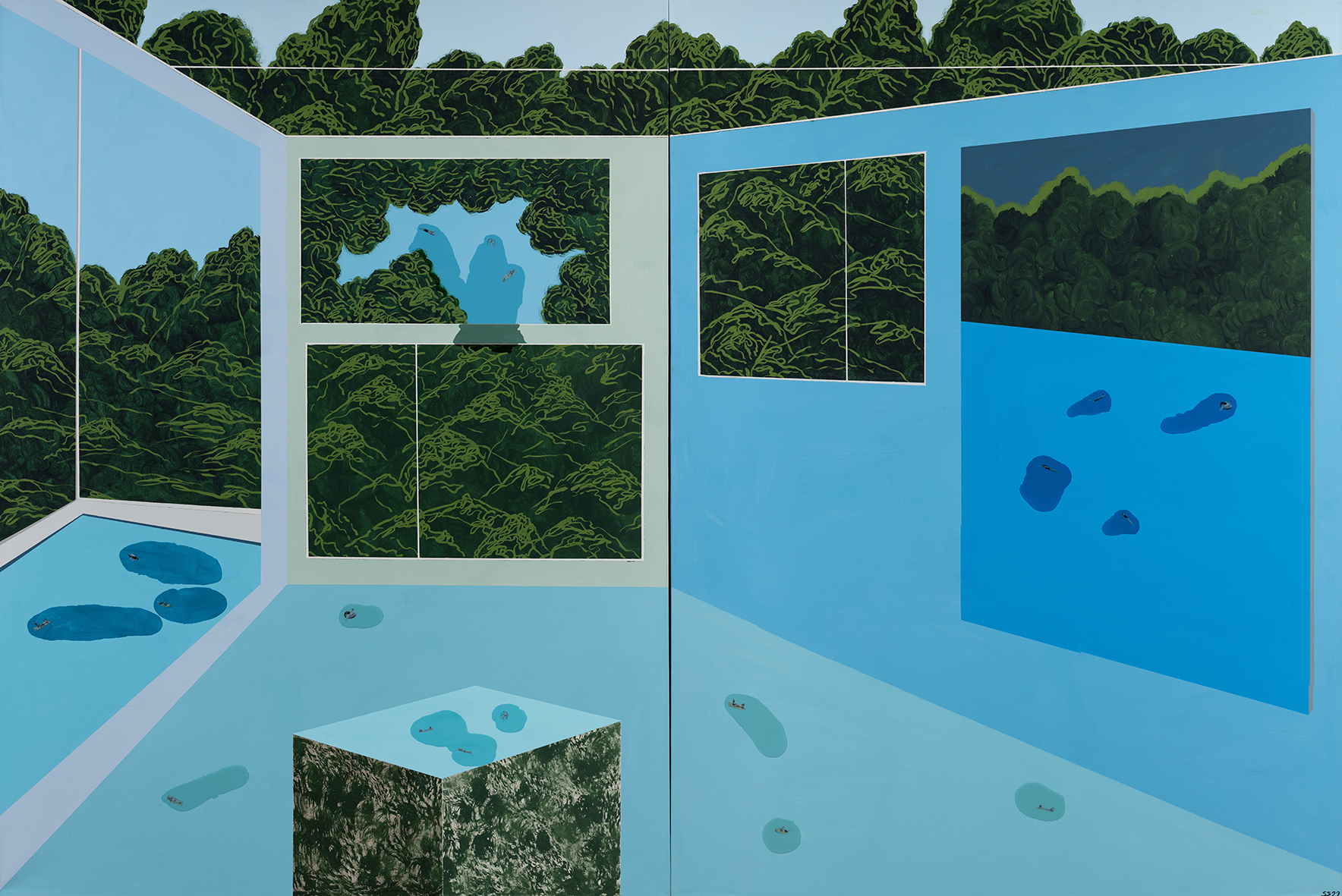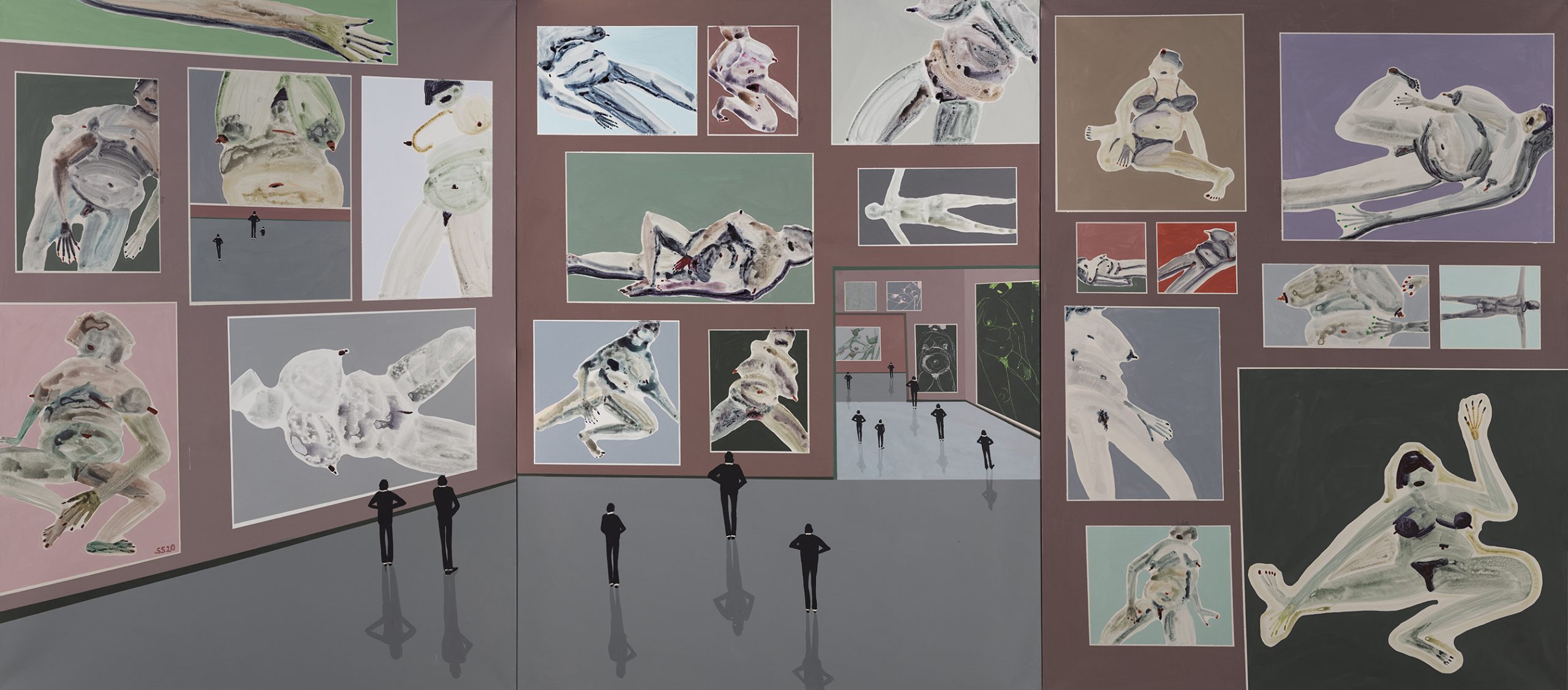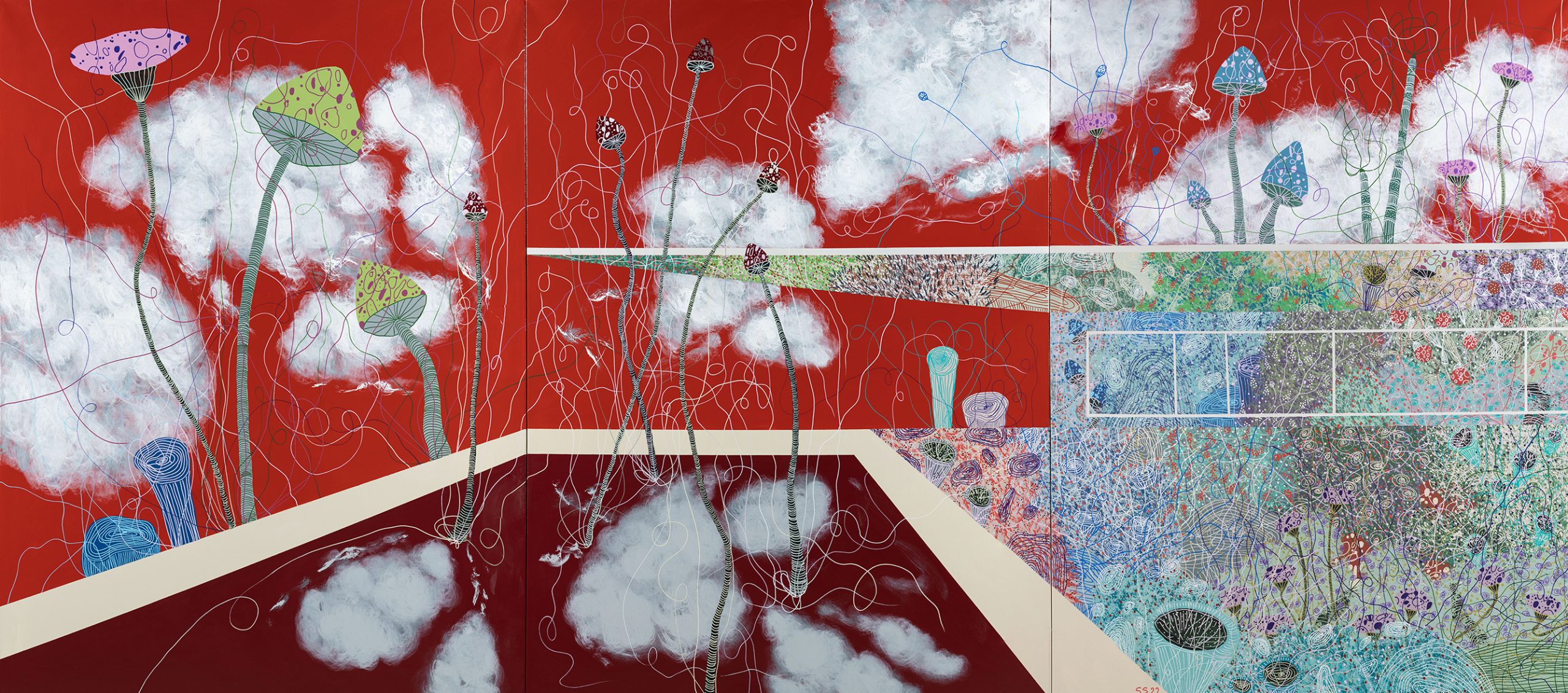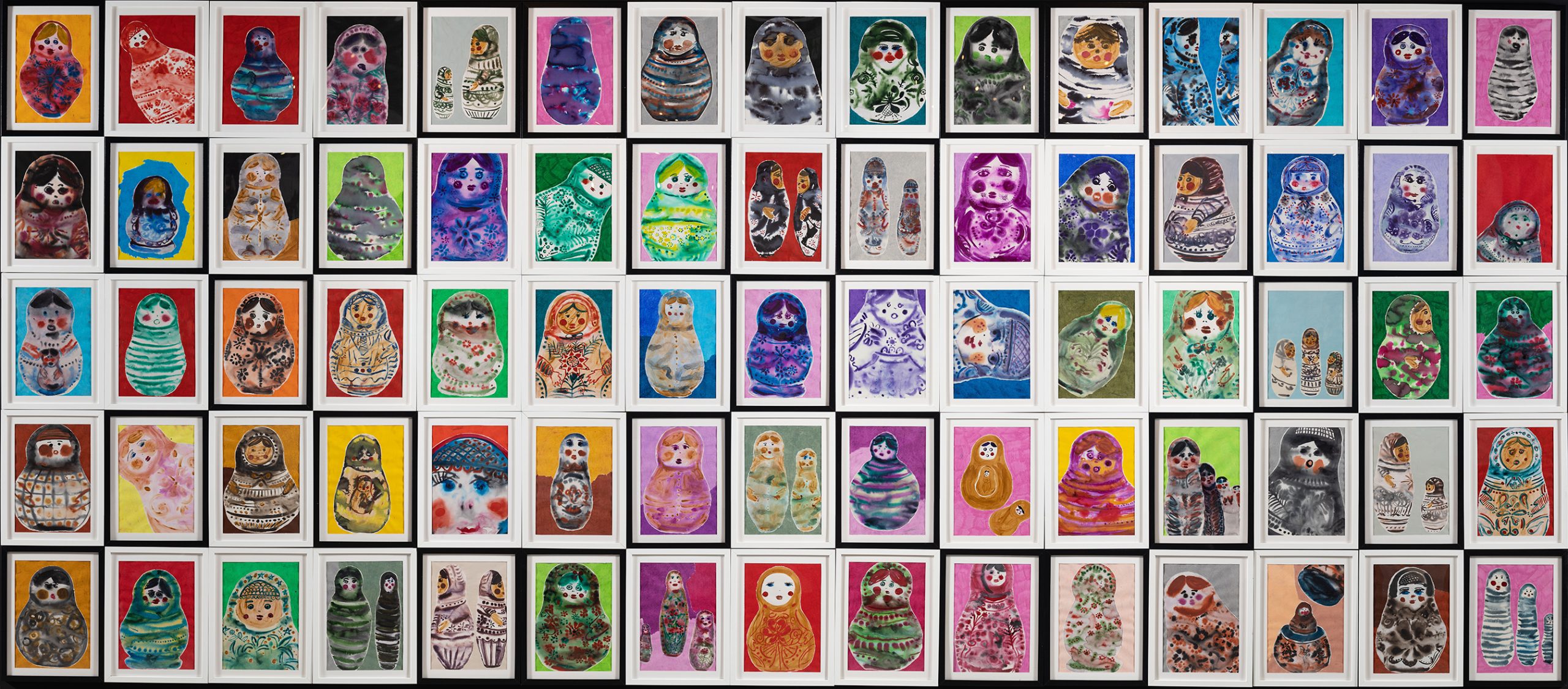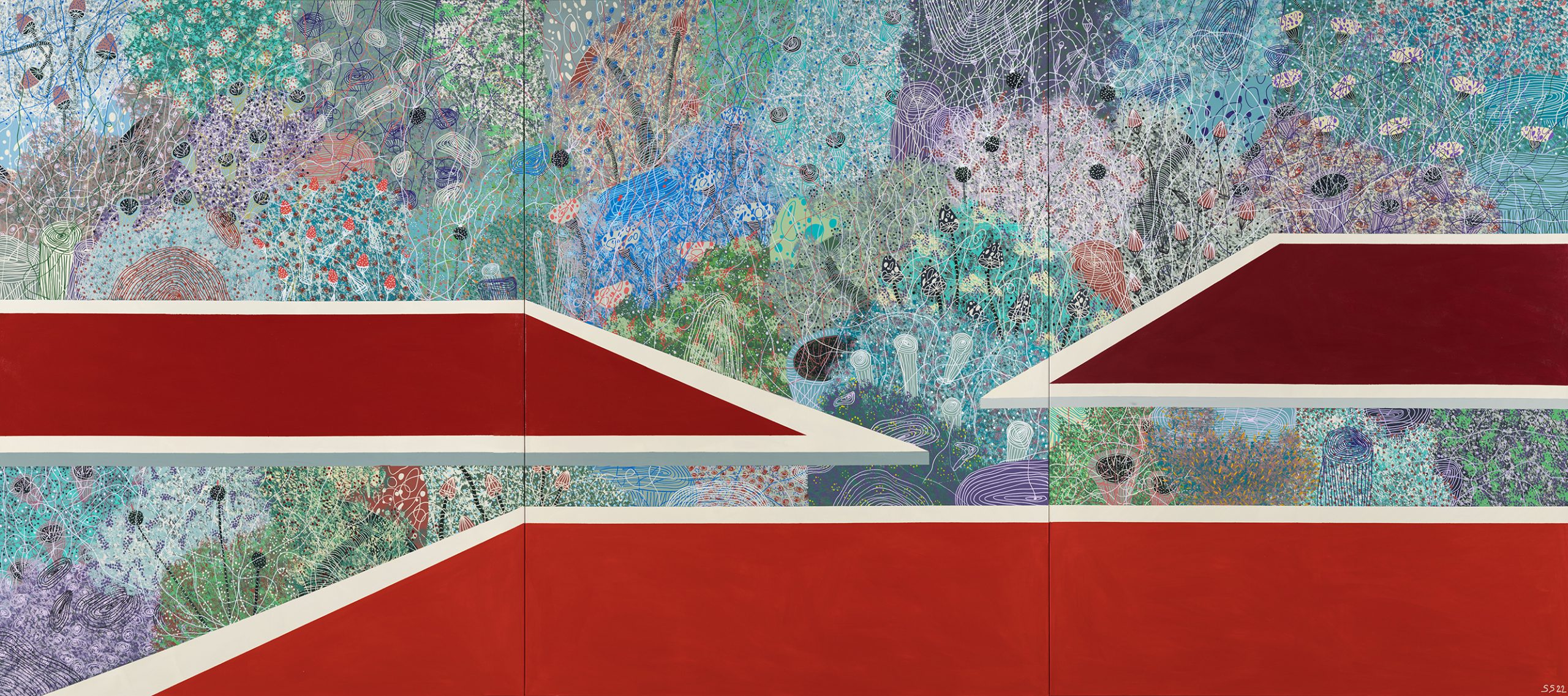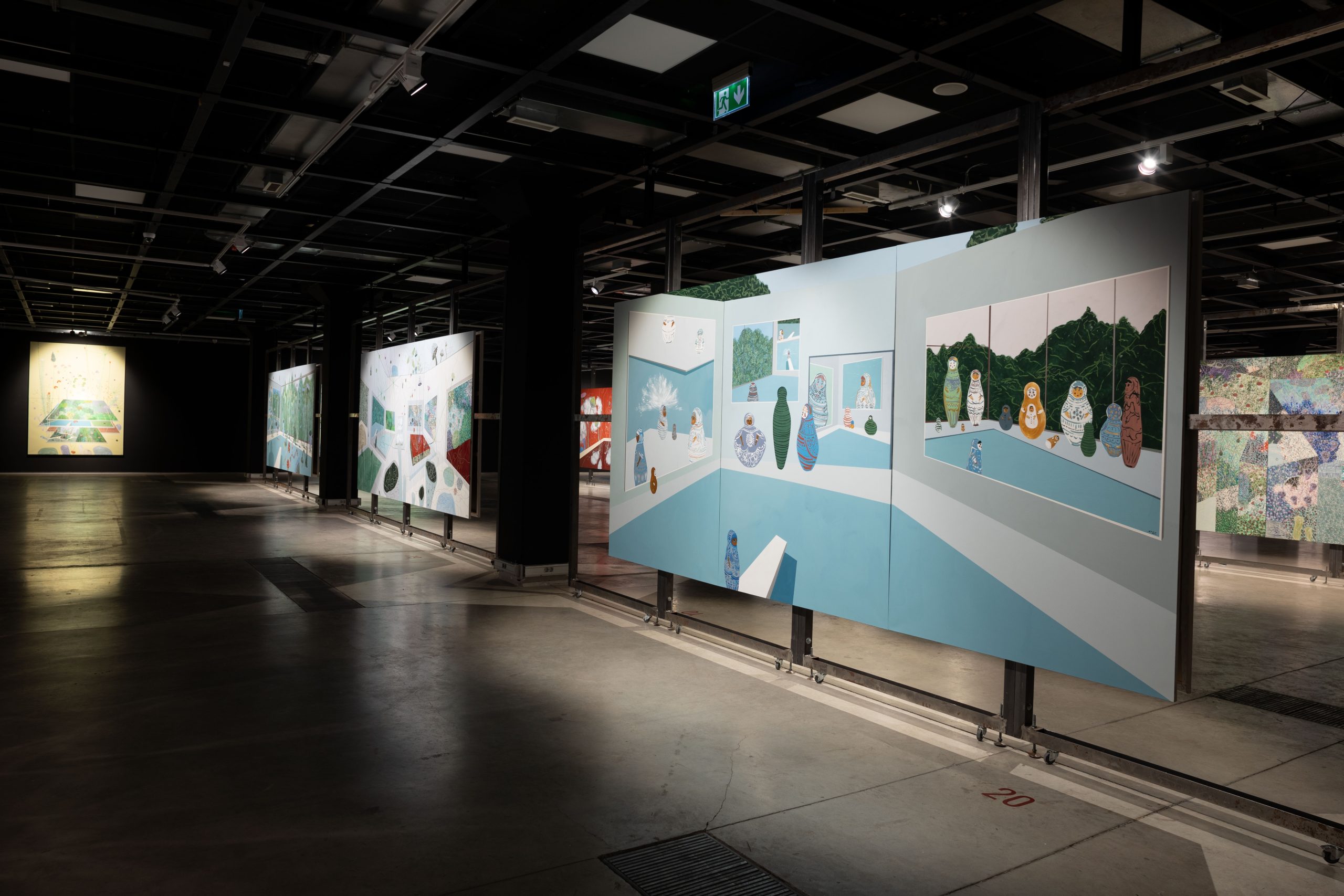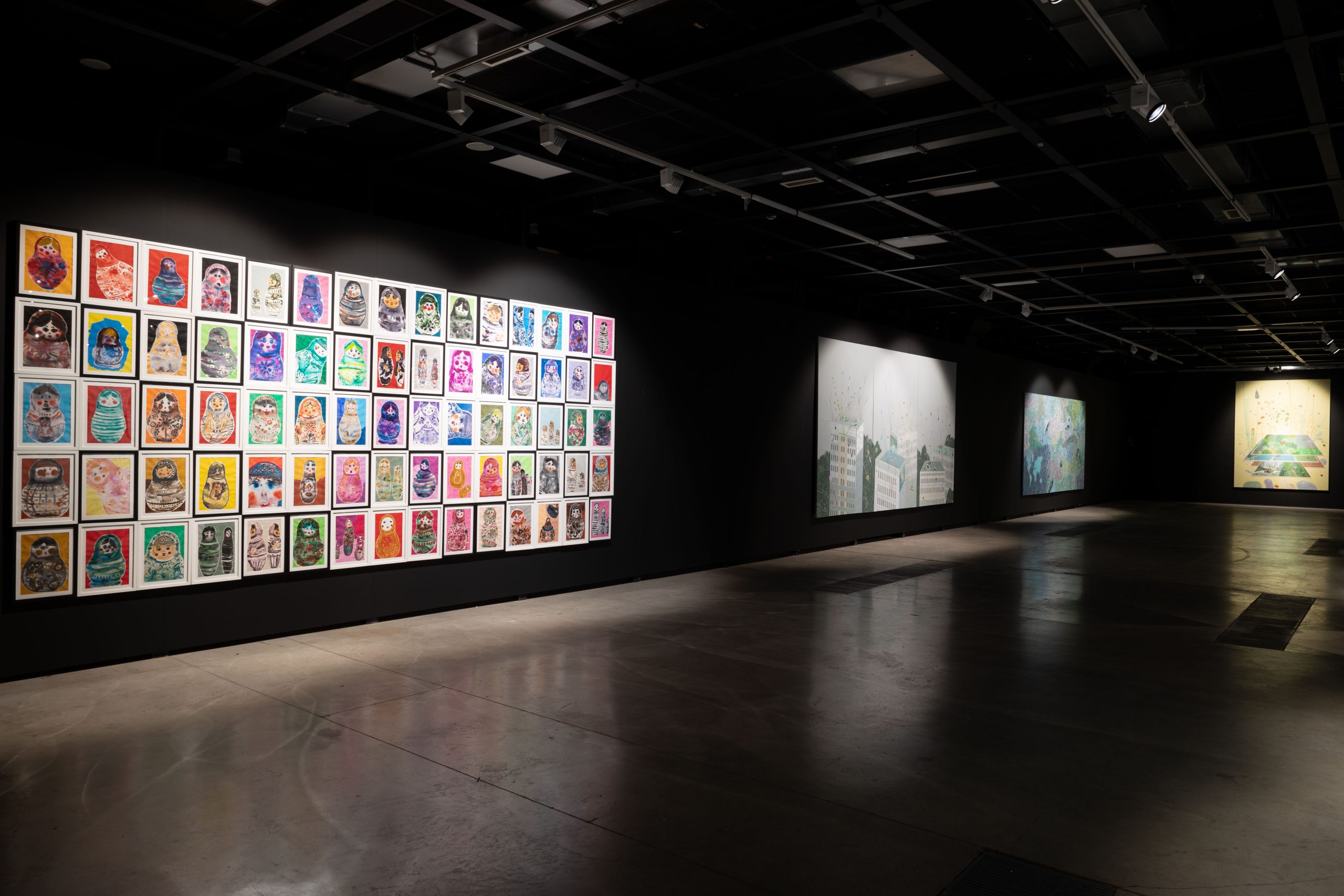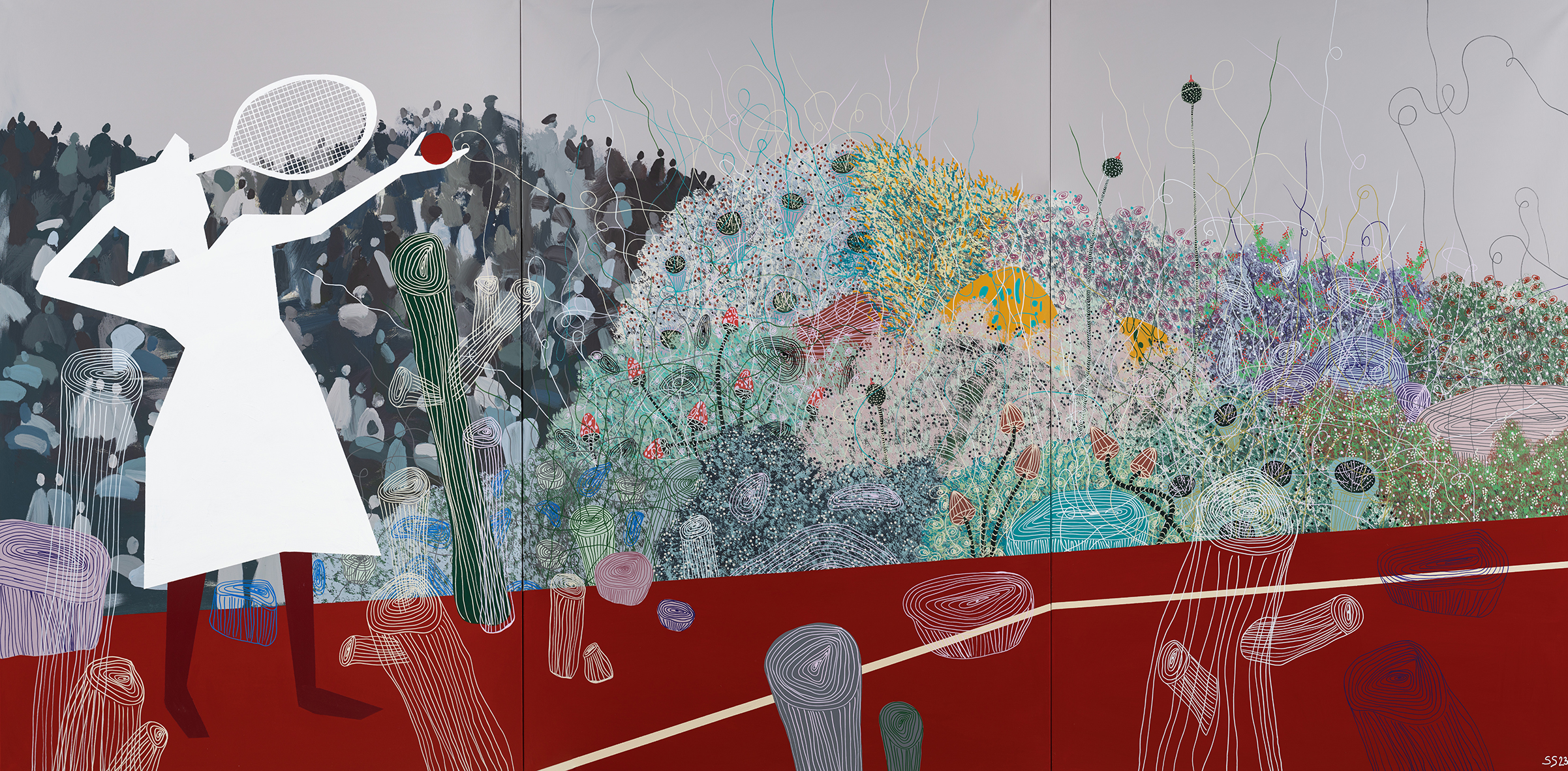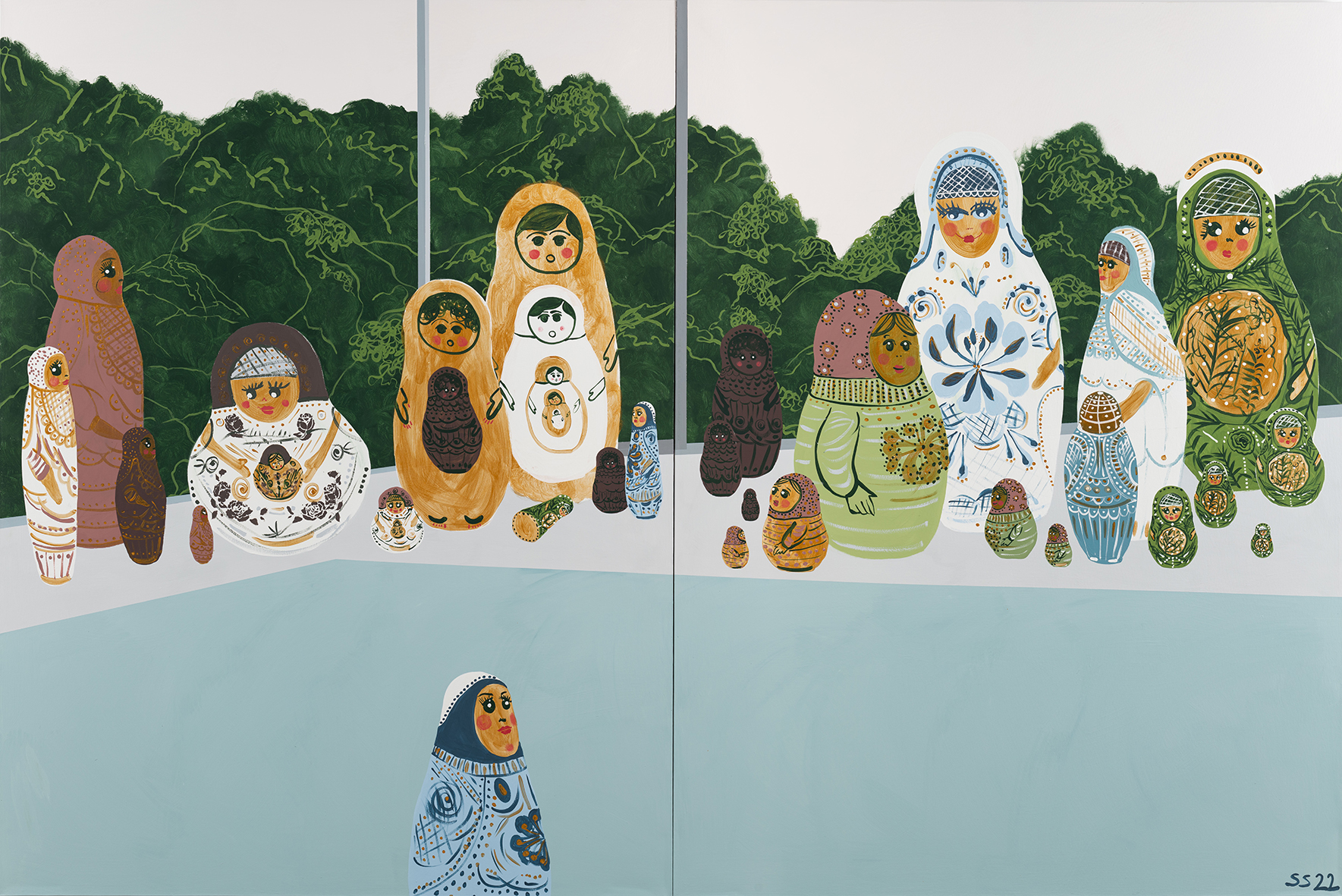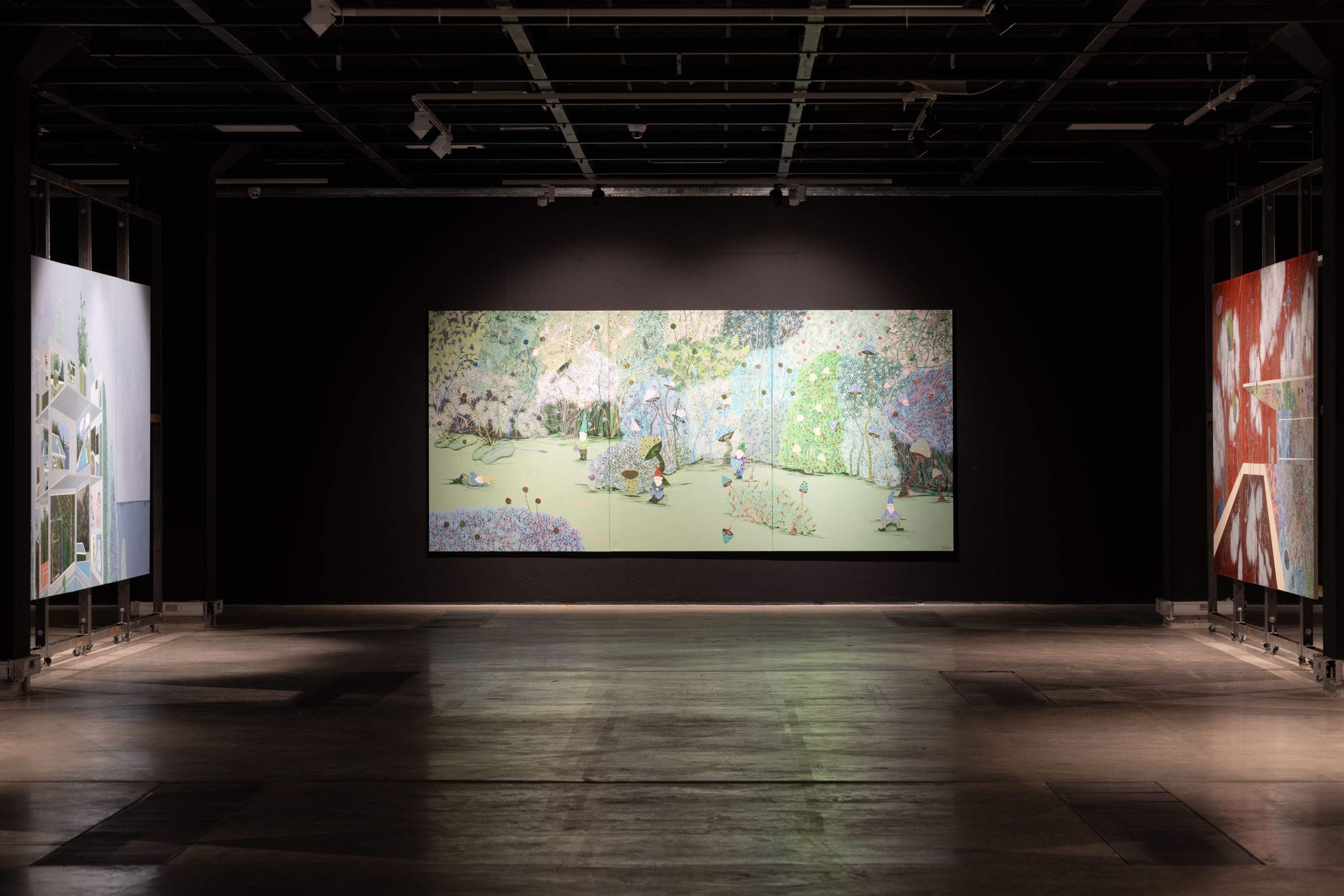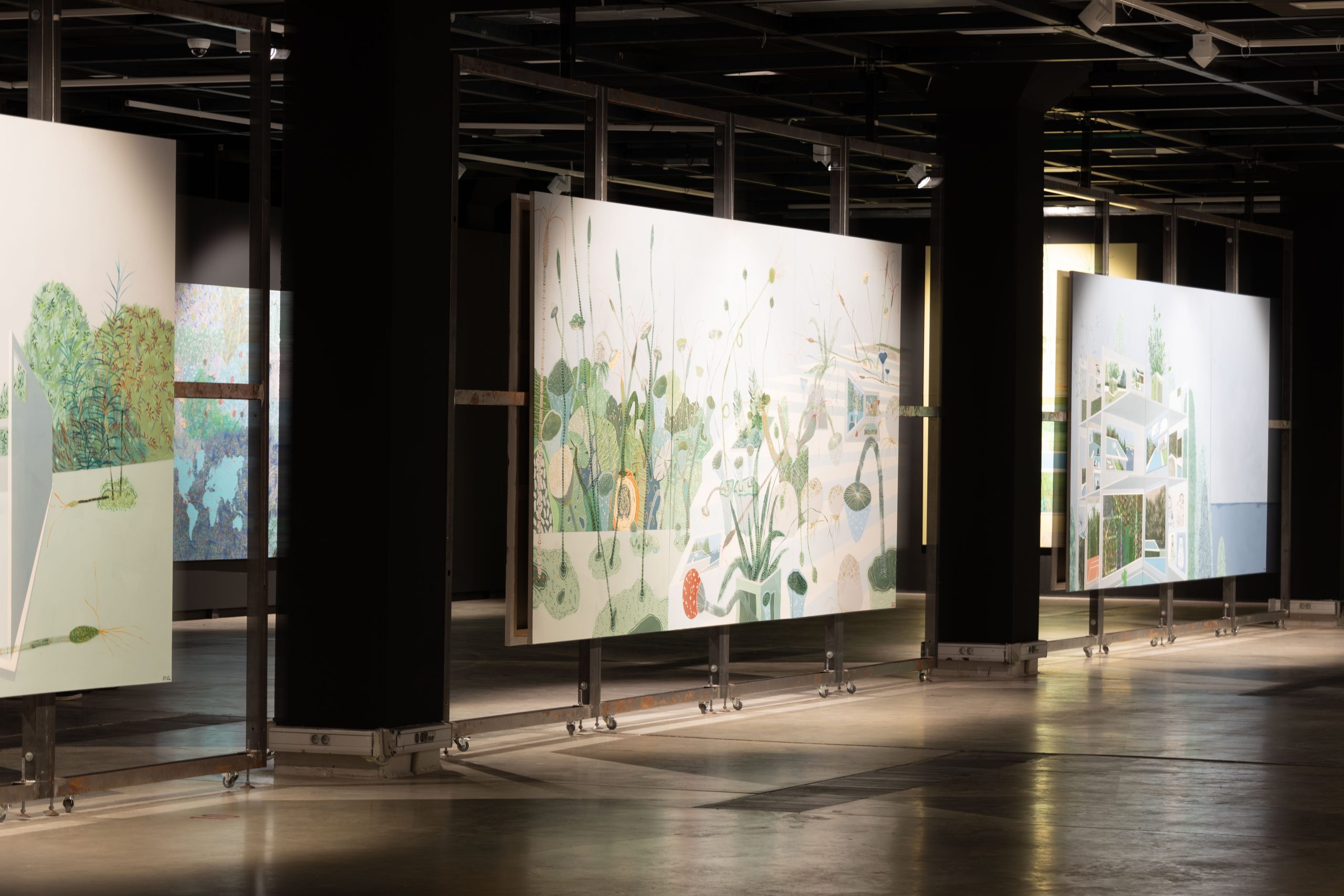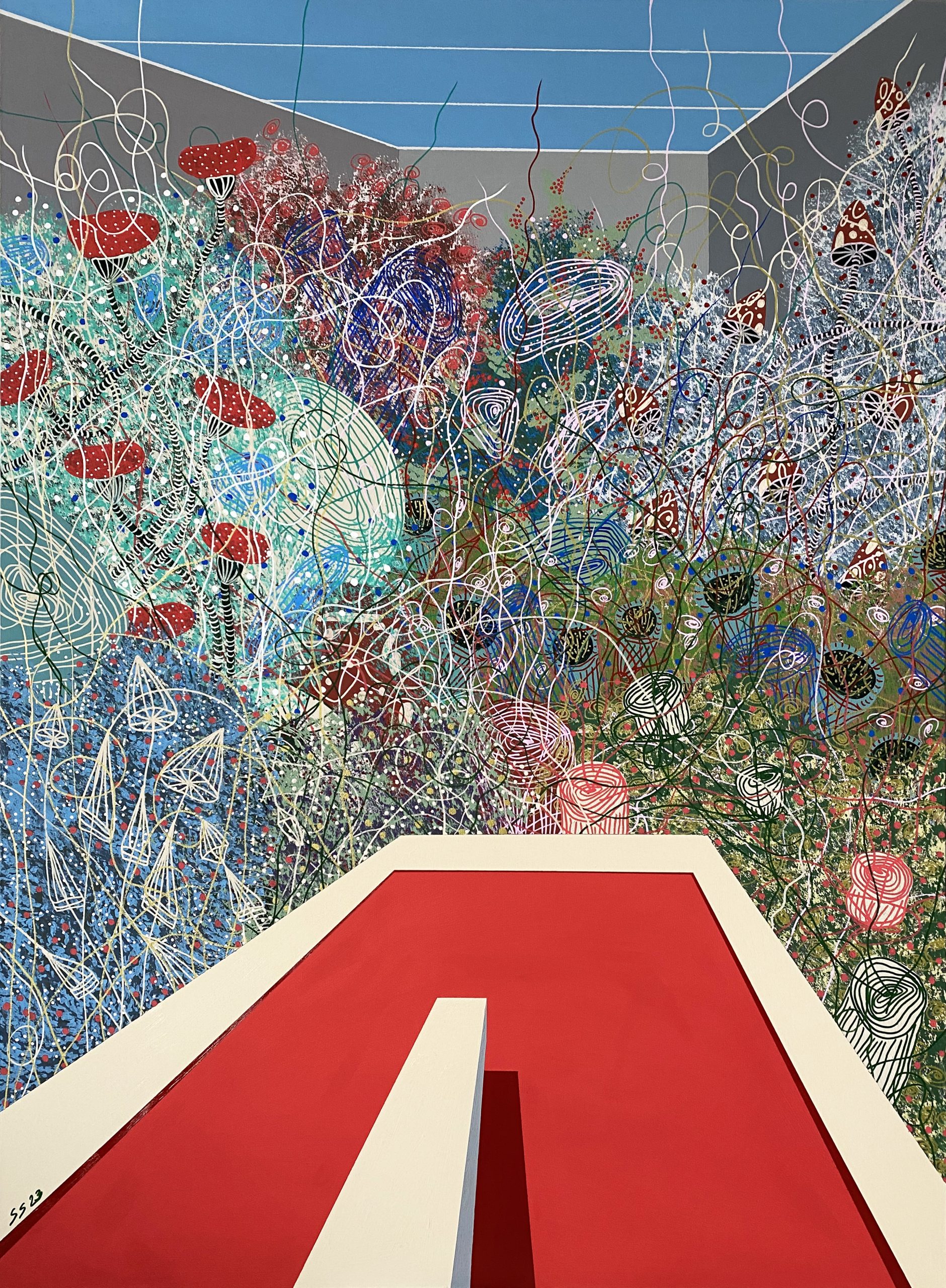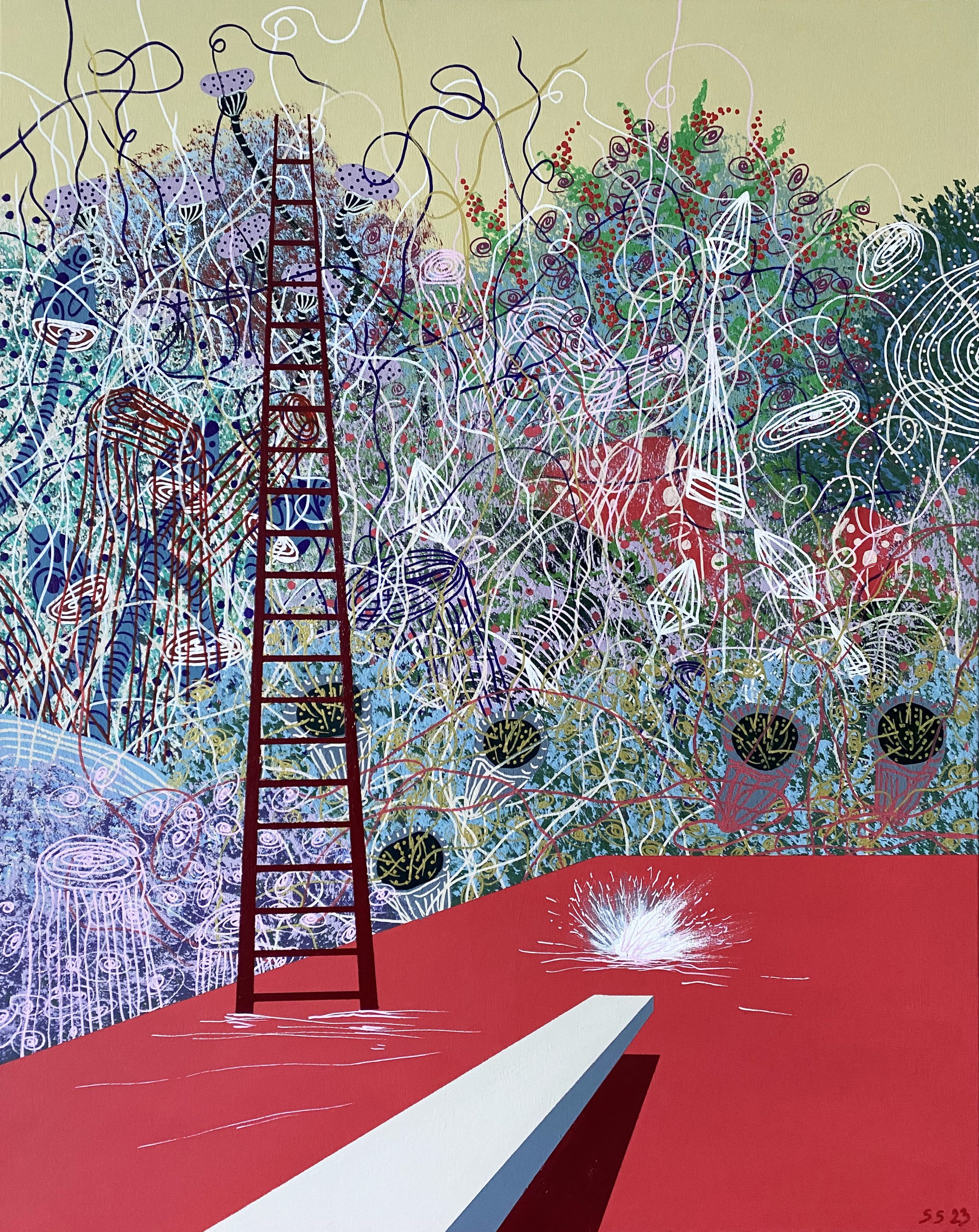 WORKS
Work Cycle. Exhibitions that Never Happened.  Canvas. Mixed Media. 2021-2023. Dimensions variable
SANDRA STRELE BIOGRAPHY
EDUCATION
2016                Art Academy of Latvia, Painting department, MA
2014                Art Academy of Latvia, Painting department, BA
2013/2014       Royal Art Academy of Antwerp, "ERASMUS"
2010                Riga State gymnasium No. 1
2007                Riga Culture secondary school
PRIZES AND AWARDS
2022                PIAB Award – Grand Artist award, FIABCN, Barcelona
2021                2nd Grant from The Elizabeth Greenshields Foundation, Canada
2020                Boynes emerging artist award, shortlisted TOP 20
                        WING gallery award, shortlisted TOP 10
2019                Young Painter Prize main award
                        Grant from The Elizabeth Greenshields Foundation, Canada
                        "Latvia's State Forests" scholarship in painting
2016                SEB bank scholarship in painting
2014                "Brederlo von Sengbusch" Art Prize
2012                Inara Tetereva scholarship in Arts
SOLO SHOWS
2023               Solo exhibition "Exhibitions that never happened: Thickets", Riga Art Space, Riga, Latvia
2022               Solo exhibition "Overgrowth", The Rooster Gallery, Vilnius, Lithuania
                       Solo exhibition "Doppelboden", SomoS Art House gallery, Berlin, Germany
2021                Solo exhibition "Better Travel/ Atvērums", Art Station "Dubulti", Dubulti, Latvia
2020                Solo exhibition "Exhibitions that never happened", Saiauliai Art Gallery, Siauliai, Lithuania
                        Solo exhibition "Exhibitions that never happened", Pamenkalnio gallery, Vilnius, Lithuania
                        Solo exhibition "Exhibitions that never happened", LOOK! gallery, Riga, Latvia
                        Solo exhibition "Exhibitions that did not happen", Meno Parkas gallery, Kaunas, Lithuania
2019                Solo exhibition "GETTING READY FOR WINTER", Modern art gallery, Livani, Cesis
                        Solo exhibition "NOSTALGIA", Riga Art Space, Latvia
Solo exhibition "CHRONICLES OF LONGINGS", Concert hall Cesis, Latvia
2018                Solo exhibition "MELANCHOLY", Valmiera culture centre, Latvia
                       Solo exhibition "MELANCHOLY", Jurmala City Museum, Latvia
2017                Solo exhibition "MELANCHOLY", Goethe Institut Riga, Latvia
2016                Solo exhibition "MELANCHOLY", Radisson Blu Elizabete Hotel, Riga, Latvia
Solo exhibition "COLLECTING", Kalnciema Quarter gallery, Riga, Latvia
2014                Solo exhibition "PLACE 57/24", gallery "Happy Art Museum", Riga, Latvia
               Solo exhibition- largescale installation "IN THE FOREST IV", Vecmilgravis, Riga, Latvia
               Solo exhibition- largescale installation "IN THE FOREST III", gallery "Ziema", Riga, Latvia
2013              Solo exhibition- largescale installation "IN THE FOREST II", abandoned Egypt's Lutheran church, territory of Latvia, Medumi, Latvia
2012               Solo exhibition- largescale installation "IN THE FOREST I", abandoned old Cotton fabric "Boļševička", Riga, Latvia
GROUP EXHIBITIONS
2022                Exhibition – project "Micēlija", Daugavpils Mark Rothko Art Center, Latvia
                        Exhibition "Transitioning", Oktogon gallery, Dresden, Germany
                        Exhibition "Šeit un tālumā. Sapnī un nomodā", Kuldīga Artists' Residence, Kuldiga, Latvia
2020                Exhibition – project "Mycelia", Platform, Munich, Germany
2019                Exhibition "Emerging lines", Kunstraum Potsdamer Strasse, Berlin, Germany
                        "Young Painter Prize" finalist exhibition, exhibition hall Titanikas, Vilnius, Lithuania (awarded)
2018                Exhibition "Kunstakademie Lettland", Kreis Gütersloh, Germany
               "Young Painter Prize" finalist exhibition, TSEKH gallery, Vilnius, Lithuania
2017                "Young Painter Prize" finalist exhibition, exhibition hall Titanikas, Vilnius, Lithuania
                JCE biennale, gallery Le Beffroi, Paris, France; 9 exhibitions in 9 countries
                        Exhibition "Netveramā robeža", Art festival of Cesis, Cesis, Latvia
            Exhibition "Bikini zona", Jurmala City museum, Jurmala, Latvia
                      Exhibition "Non existent sound", Culture hall of Carnikava, Carnikava, Latvia
                      Exhibition "Non existent sound", Art Academy of Latvia, Riga, Latvia
2016                Exhibition "Art Future/Future Signs", gallery "Crous de Paris", Paris, France
                        Exhibition "BBX", Liepajas Latviešu biedrības nams, Liepaja, Latvia
                      Exhibition "Tension. The Young in Latvian painting III", Latvian National Museum of Art, exhibition hall Arsenals, Riga, Latvia
2015                Exhibition ''MARK ROTHKO 2015'', Daugavpils Mark Rothko art centre, Daugavpils, Latvija
Contemporary art festival "Survival K(n)it 7", Centre for contemporary art of Latvia, Riga, Latvia
2014                Exhibition "Lynoja", gallery "Akademija", Vilnius, Lithuania
                      Exhibition "What happens there in Riga?", gallery "NOORUS", Tartu, Estonia
                      Exhibition "Frag.1.,2.,3.", Press house, Riga, Latvia
2013                Exhibition "Chemin de fer" Art Academy of Warsaw, Poland
                      Exhibition "Location and dislocation" Kaņepes Culture Centre, Riga, Latvia
OTHER
2022                FIABCN, Barcelona, Spain
2020                Fasade paintings for kindergarden "Mežrozīte", Riga, Latvia
2019                JCE biennale residency in Montrouge, Paris, France
2017                Fasade paintings of kindergardens "266" and "Kadiķītis", Riga, Latvia
                        Participation in KUNO organized workshop "Building up a phantasmagorical memory", Aarhus, Denmark
2015                Internship at the 56th Venice Biennale, Latvian National Pavillion
               Participation in the international visual arts residency at Glo'art art center, Lanaken, Belgium
               Participation in the international art residency "Mark Rothko 2015", Daugavpils Mark Rothko center, Daugavpils, Latvia
2014                International workshop "Make your own press", organized by KUNO, Bergen, Norway and Tallinn, Estonia
2013                International residency "The wall of Europe", Sardinia, Italy
International workshop "Illegal aesthetics", Tallinn, Estonia
Exhibitions that Never Happened
Text. Dr. Phil. Lily Fürstenow
In her works Sandra Strēle represents space  like a stage similar to a sort of spectacular theater spreading in front of the viewers eye. We encounter figures or groups of figures on flat planes. Contours of human bodies are painted in a style that gives dynamic movement to their action framed within the frames of pictures from "the exhibitions that never happened" which is a signature motive with Sandra. Almost arabesque anatomies  of the painted bodies within the spaces where they interact during the illusionary exhibitions are deformed as if on fantasmatic screens vanishing within the receding perspectival space. Distorted imaginary exhibition areas are criss-crossed with columns, furniture fixtures and painted canvas images.
Schematically modelled segments of human anatomy sometimes stand in the dramatic contrast to the background geometric shapes of the picture frames. Human figures and objects add up into paradoxical environments made up of gallery or museum interiers dissected by the modular picture grids and inner architecture geometry. The frontal arrangements of figures and objects communicate the isolation of human beings that are captured in the endless motion of the feverish arabesque-like imagery. Strele's decorative compositions are almost swirling out of the frame. Decenterdness of the composition gives the genre scenes depicting art shows with exhibition visitors in museum halls a sweeping movement.
Her nature views expose lush vegetation with vivid hues of greens. It's almost tropic universe in expansion executed in monochrome colours. The pulsating repetition of the motives blurring the demarcation lines and contours has an almost hypnotic effect on the viewers. One confuses levels of reality. The interiors of the exhibition halls are overlapped and intertwined with the motives of the imaginary pictures hung all over the walls interrupted by the fixtures and columns decorating the fantasmatic interiors. The syncopated rhythm of bodily contours although different in scales creates an intricate ornamental fabric on the flat canvas surface. The gestures of the human figures rhyme with the arabesques of the framed picture screens decorating the imaginary art spaces. "Exhibitions that never happened" cycle comes as a critical reference to the situation existing before the pandemics and aggravated during the crisis taking as a reference the immensely complicated contemporary arts establishment that makes it impossible for most of the young artists to get represented in the career-relevant exhibitions.