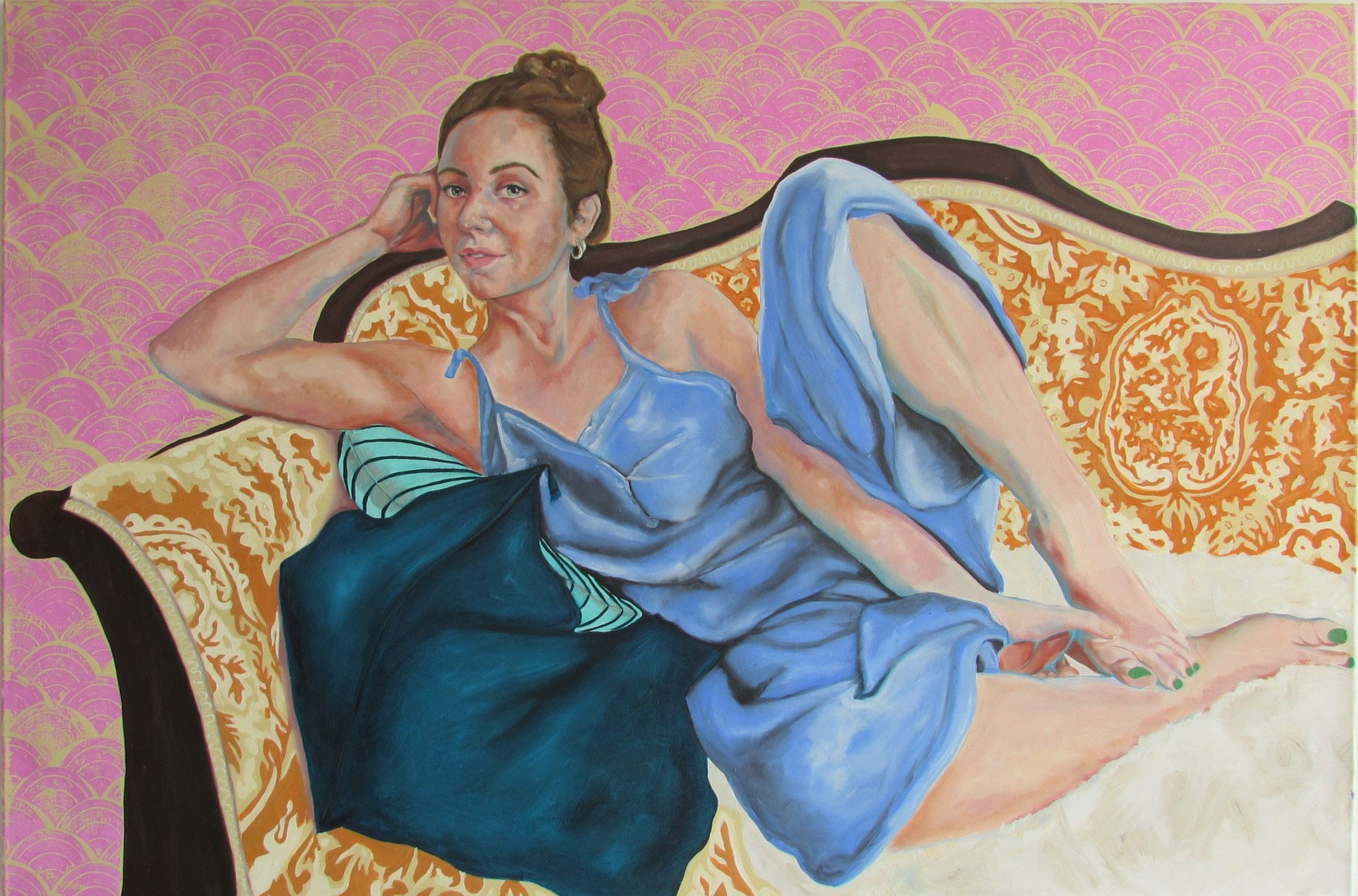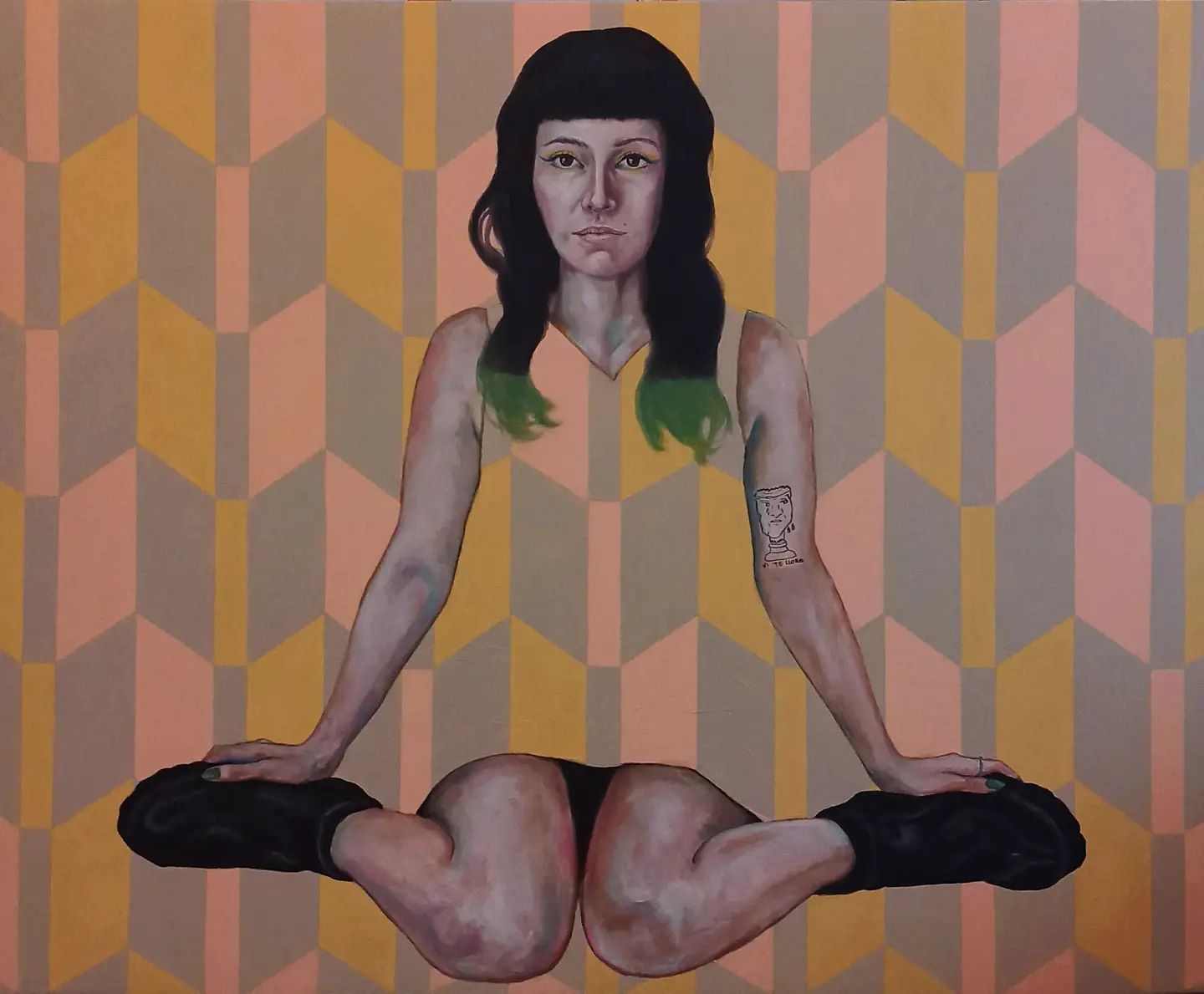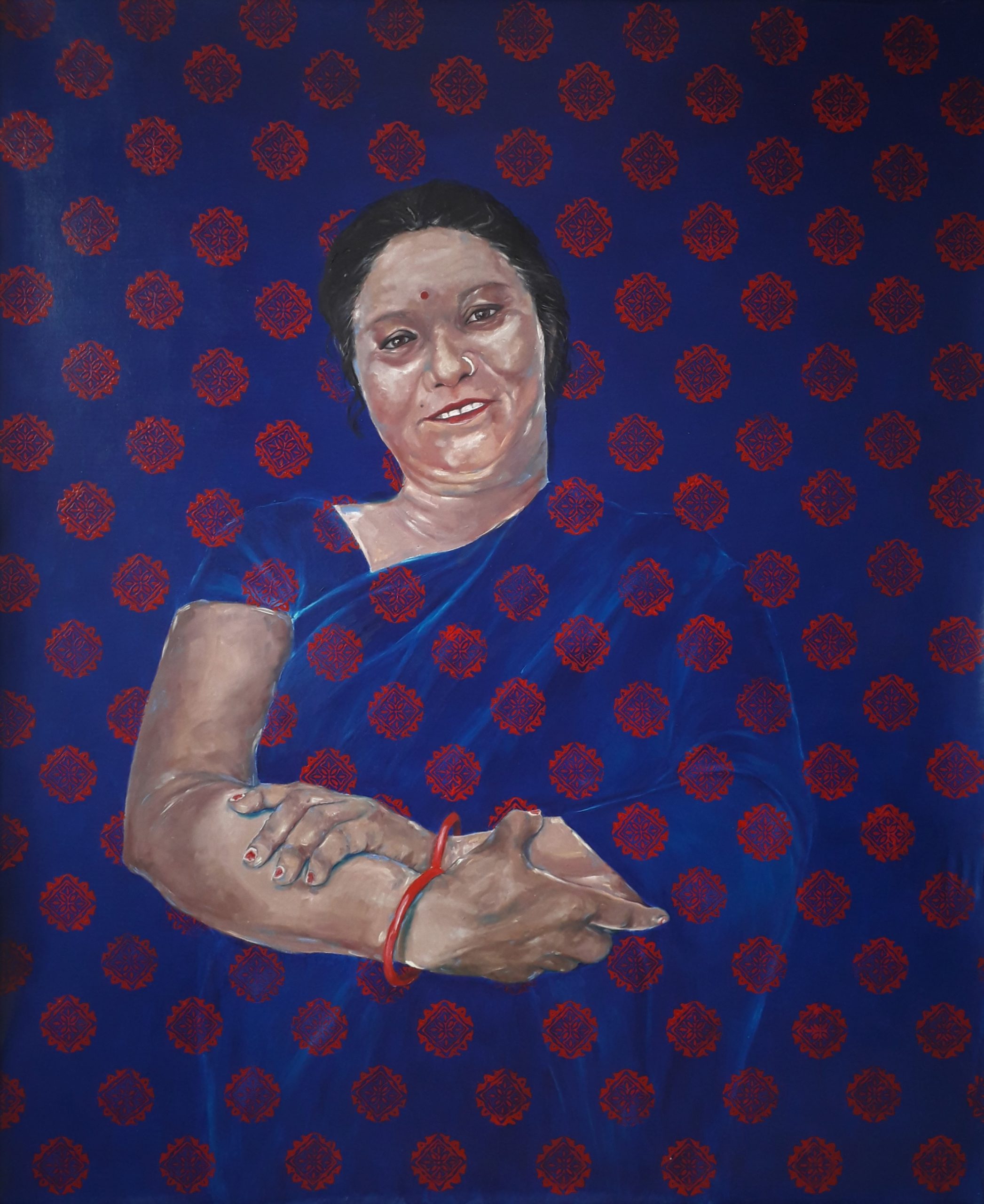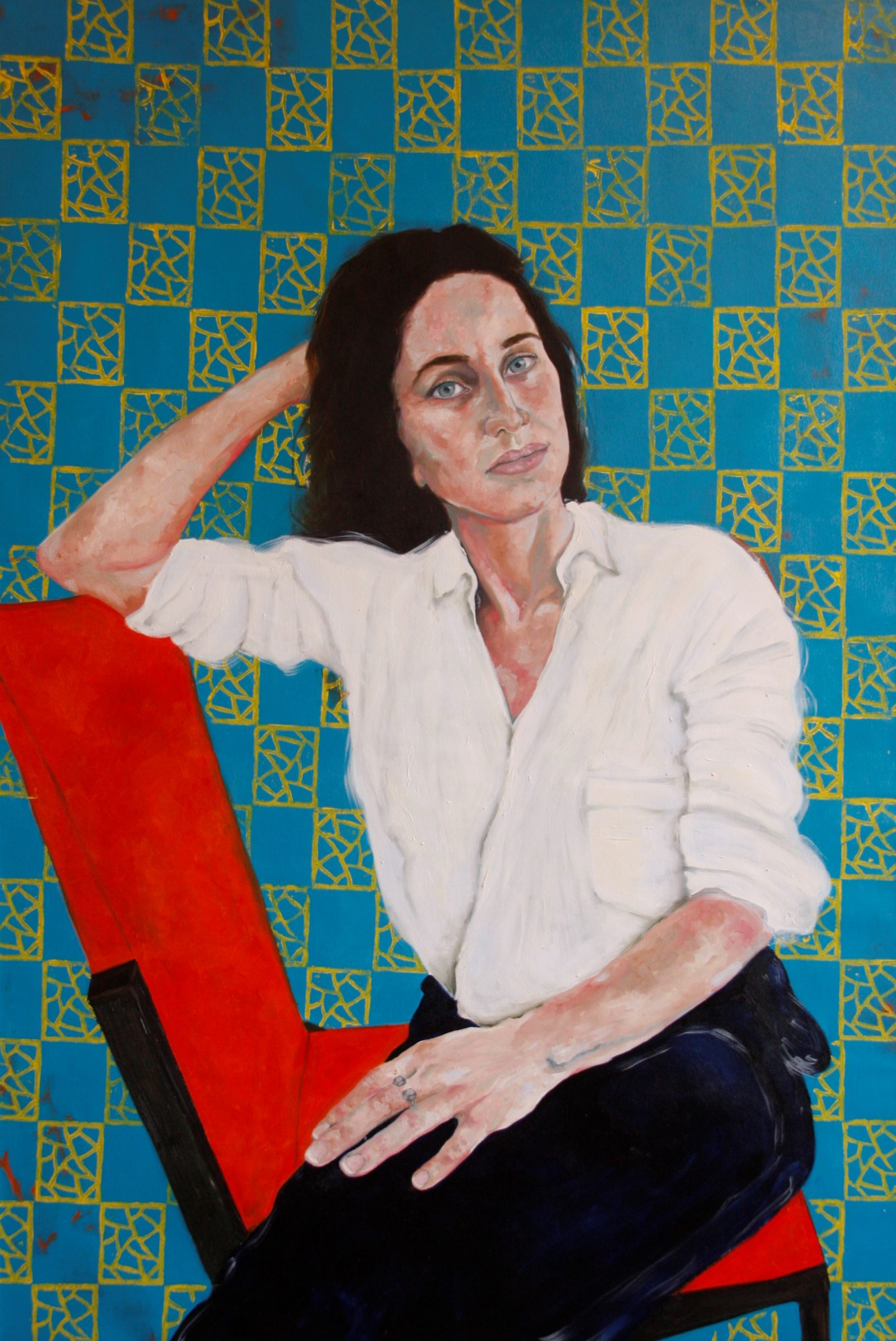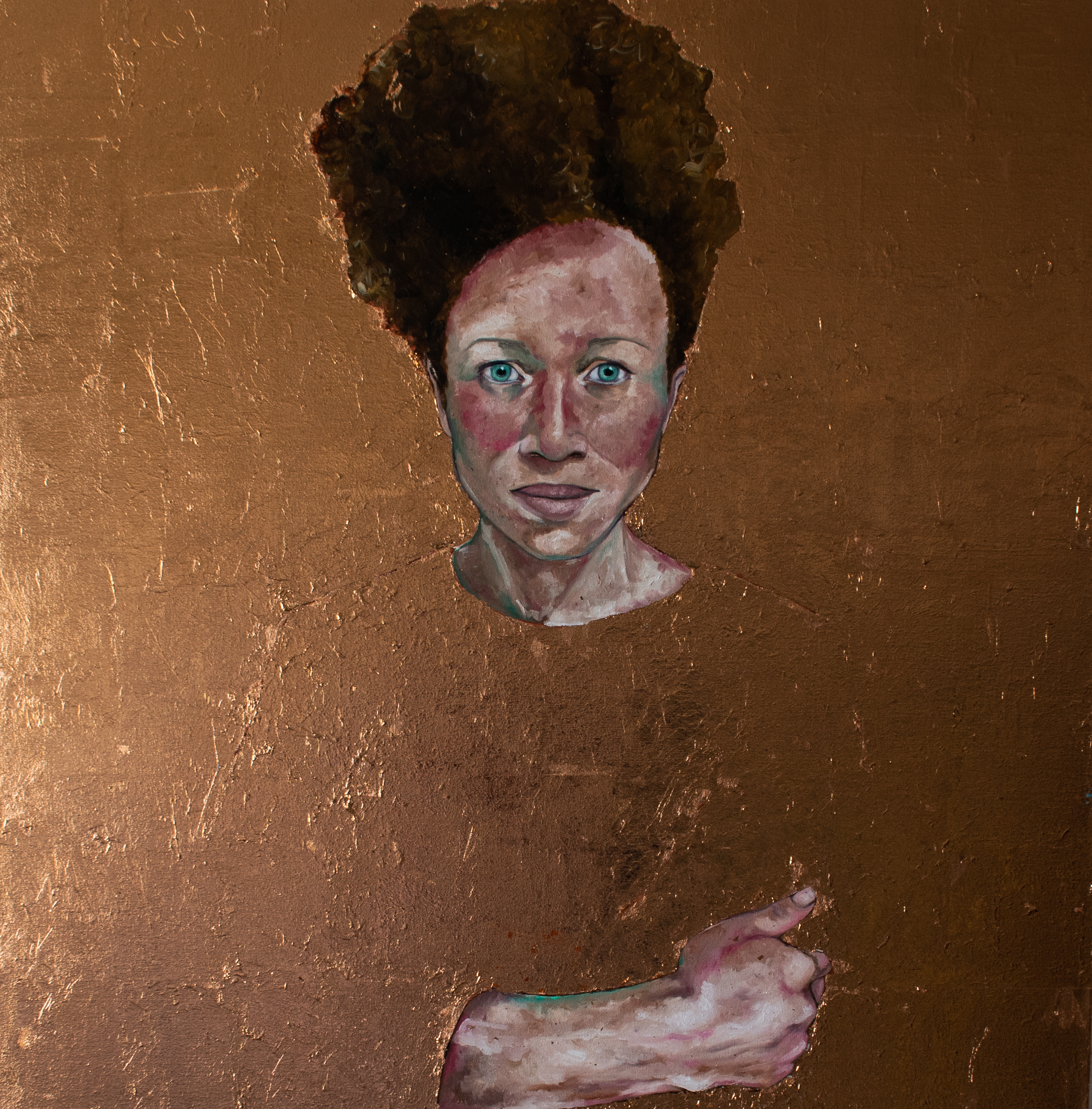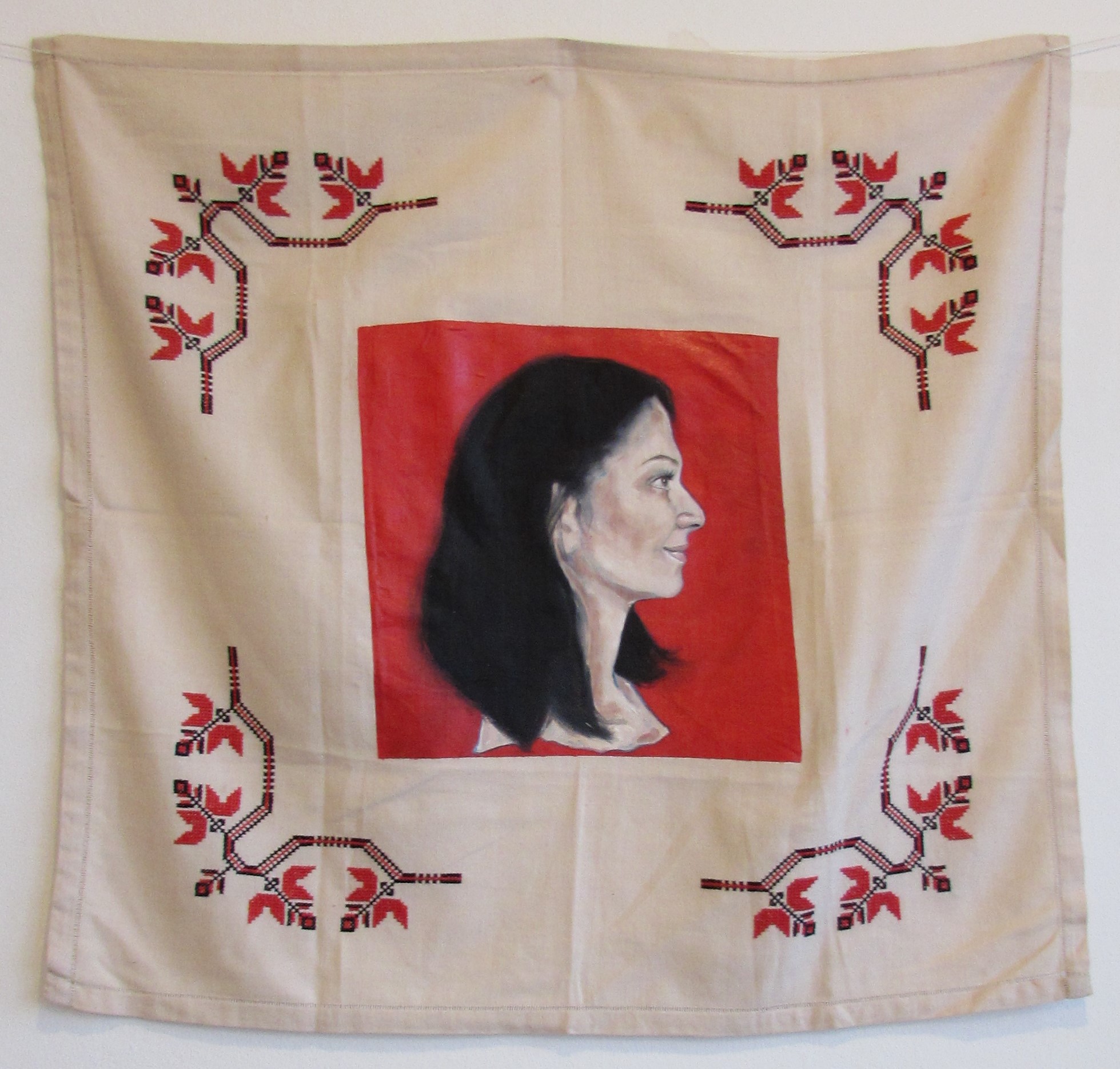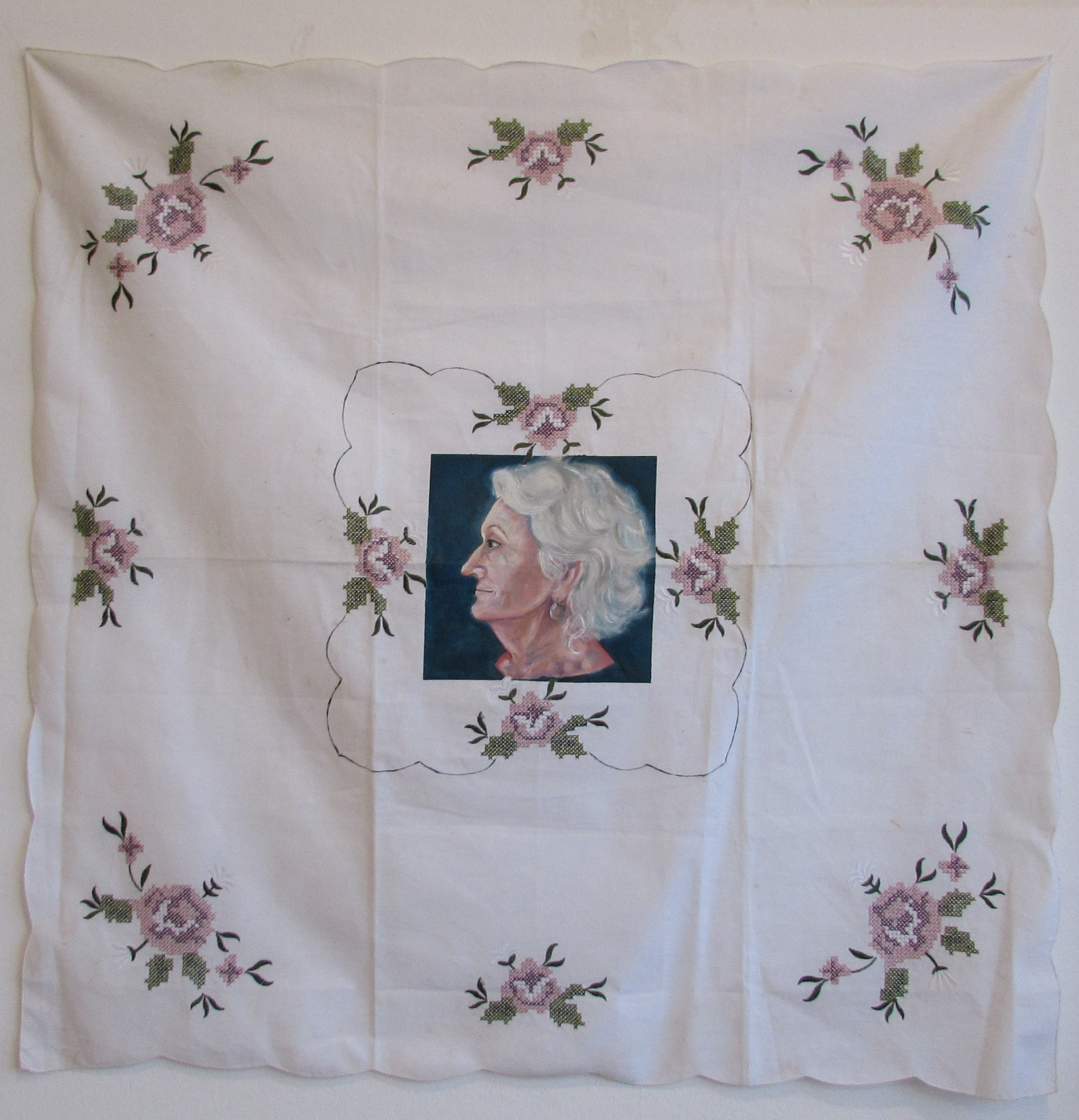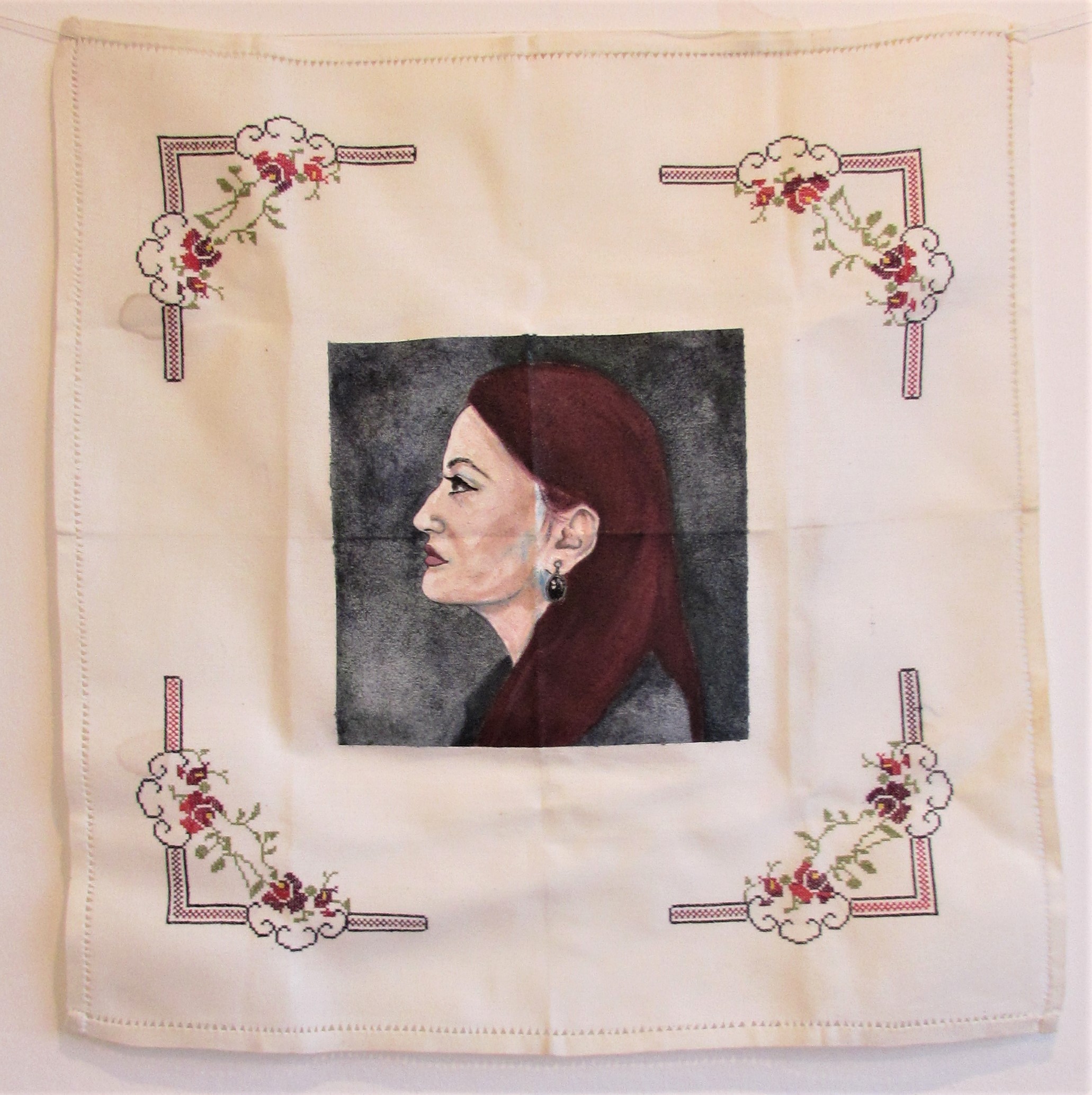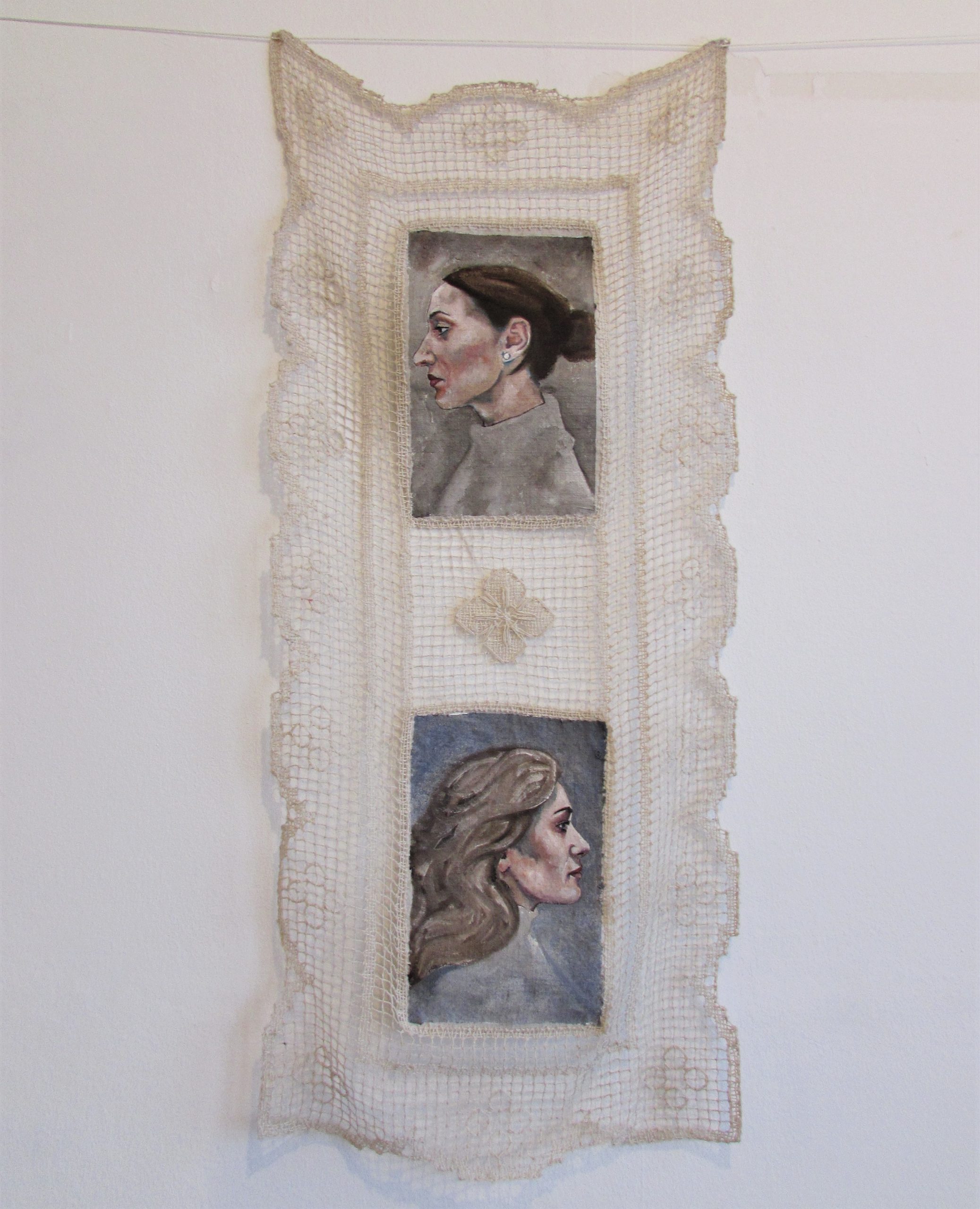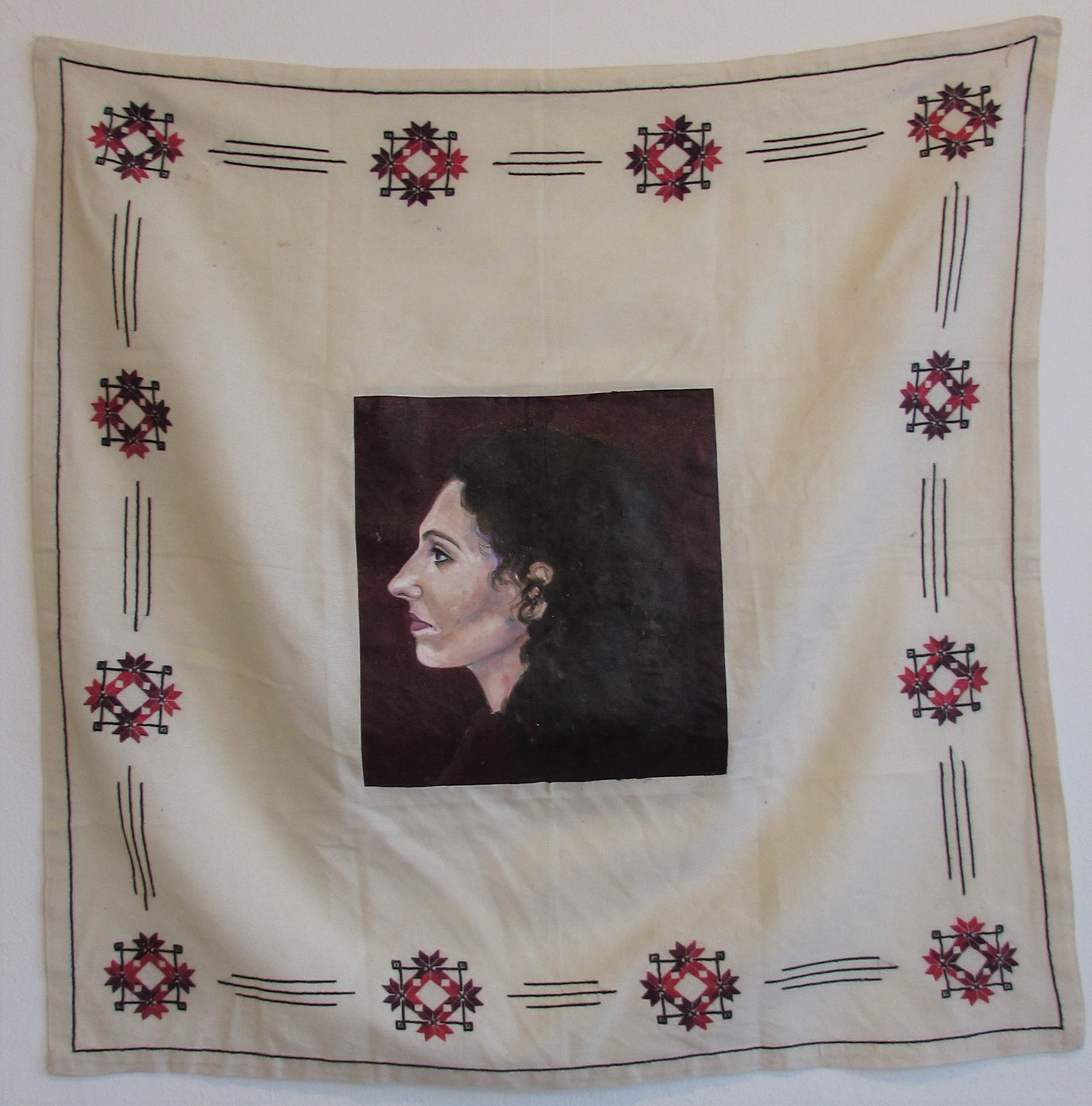 Iri, oil on handmade embroidered cloth, 73,5 x73,5 cm 2021
Shquipe, oil on handmade embroidered cloth, 85×85 cm, 2021
Xhejni, oil on handmade embroidered cloth, 72×72 cm, 2021
Arita and Éc, oil on handmade embroidered cloth, 40×87 cm 2021
Slagjiana, oil on handmade embroidered cloth, 67×67 cm, 2021
Vita / Ausstellungen
1981 born in Viterbo, Italy
2005 MA Visual Art at the Academy of Fine Arts of Rome, Italy
2010 MA Contemporary Art History at the University "La Sapienza" in Rome. Since 2007 living and working in Berlin, Germany
Selected EXHIBITIONS
2021 "Currency – A women ́s work", solo exhibition, Loja – Center for Balkan Cooperation, Tetovo, North Macedonia
Unblock Fair Art Fair, Studios Id, Berlin
2020 "Her Honest Self" solo exhibition, Aquabit Art Gallery Berlin, Germany
"Domani in Arte", digital group exhibition, Galleria d ́Arte Moderna di Roma Capitale, Rome, Italy "In between 5", group exhibition and artist residency, Green Hill Gallery, Berlin Germany
2019 Artist residency "Chander Haat", Kolkata, India
Group exhibiton and Open Studios, Studios ID, Berlin (Germany)
2018 Group exhibition "In// Between #3", Green Hill Gallery,Berlin (Germany)
Chouftohonna : 4. International Feminist Art Festival of Tunis , Théâtre National Tunisien , Tunis
2017 "Kunst Boulevard 2017", group exhibition by Kulturamt Steglitz- Zehlendorf, Boulevard, Berlin (Germany)2016 Solo exhibition, Meisterschueler, Berlin (Germany)
Chouftohonna : 2. Festival of feminist art, Centre Mad ́Art Carthage, Tunis
2015 "Kunst Boulevard 2016", group exhibition by Kulturamt Steglitz- Zehlendorf, Boulevard, Berlin (Germany) "Sinn- Licht (The art of Inclusion)", Workshop and group exhibition, Schillerpalais, Berlin (Germany)
2012 48 Stunde Neukölln, group exhibition c/o Transformationsalon, Berlin (Germany)2011 Group exhibition "Welten Daneben/Highway Europa", Cologne (Germany)
Group exhibition "Star(t)dust" by Plasticine Factory, Acquire Art Gallery, London (UK)
2010 Group exhibition "Girls, Girls, Girls", Infantellina Contemporary, Berlin (Germany)
Group exhibition "The Dream Machine –chapter 1: diary of a dna", by Plasticine Factory,
Acquire Art Gallery London (UK)
Group exhibition "Polymorphoenix: 1.transformance festival" Alte Post, Berlin Neukölln (Germany) Solo exhibition "Essere è solo un ruolo", Sala degli almadiani, Viterbo (Italy)
2009 Group exhibition "Look at me", Infantellina Contemporary, Berlin (Germany)
Solo exhibition "Eros e dintorni", Caffè Letterario La Galleria, Cefalù , Palermo (Italy)
Group exhibition Humans & Gods, Infantellina Contemporary, Berlin (Germany)
2008 Group exhibition (with Fortner Anderson and Lee Salomone), Galerie -december-, Berlin (Germany) Group exhibition "Italians do it 2", Infantellina Contemporary, Berlin (Germany)
2007 Solo exhibition "Gloss", Art'n'Beat. Rome (Italy)
Group exhibition NUA: New Unknown Artists, Circolo degli Artisti, Rome (Italy) Group exhibition for "La Notte Bianca 2007", Stardust Village, Rome (Italy)
2006 Solo exhibition "Gloss", Rome (Italy)
Solo exhibition, Casc Banca d ́Italia, Rome (Italy)
2003 Group Exhibition, Galleria S. Pellegrino, Viterbo (Italy)
Gravures group exhibition, Centro per l'Incisione e la Grafica d'Arte, Formello, Rome (Italy)
Artist in Residence
2021 Loja – Center for bankan cooperation, Tetovo, North Macedonia (supported by Goethe Institut)
2019 Chander Haat, Kolkata, India
2018 and 2020 Green Hill Gallery Berlin, Germany
Prizes
2008 Celeste Kunstpreis 2008(Germany) – Artwork chosen for the catalogue
2007 Genovarte, 2 Biennale d'Arte Contemporanea di Genova (Italy) Artwork chosen for the final exhibition and the catalogue2006 III Premio Celeste(Italy) Artwork chosen for the catalogue
IV Premio Bellini Arte (Italy): final group exhibition, Galleria Bellini, Cascina2002 III Concorso d'Arte Sacra "S. Giuseppe artigiano", Rome
Publications
2017 Kunst Boulevard Exhibition Catalogue
2016 "Freiraum Kunst – Eine Inspiration zum Perspektivwechsel" , Booklet aus dem Projekt "Sinn-Licht"2015 Kunst Boulevard Exhibition Catalogue
2010 Sand Magazine Berlin
2008 Celeste Kunstpreis Catalogue
2006 III Premio Celeste Catalogue
II Biennale d'arte contemporanea di Genova Catalogue
​
Artist Statement
Common sense depicts the concept of "generation" as the fact of being born in a determined period, and of living a common cultural and social climate, that leaves a trace in our way of feeling, how we think and act.
I believe that history has not just been made by kings or wars, but by common people. People who are almost all lost by the memory of time. I do not want my generation to get lost.
I have an idea of generation as a story being told and I aim to portray my generation and its beauty: the beauty of its happiness, the beauty of its pain.
My work is mostly dedicated to the stories of women. A constant source of interest is the contradictions that shape our reality, especially regarding women and the intrinsicate contradiction they (we) live in: the duality between the poeticized image as saint, muse, goddess, and the inequality she faces in the real world with the constant request from the society to blend in.
At the same time I am also very influenced by the tradition of portrait coming from my italian roots as well as the arts and crafts from all over the world, therefore I chose to use the traditional format of portrait, adapting it to the era I live in.
Beyond the portrait I like to examinate the history and traditions of places and link them to our current world, through different media.