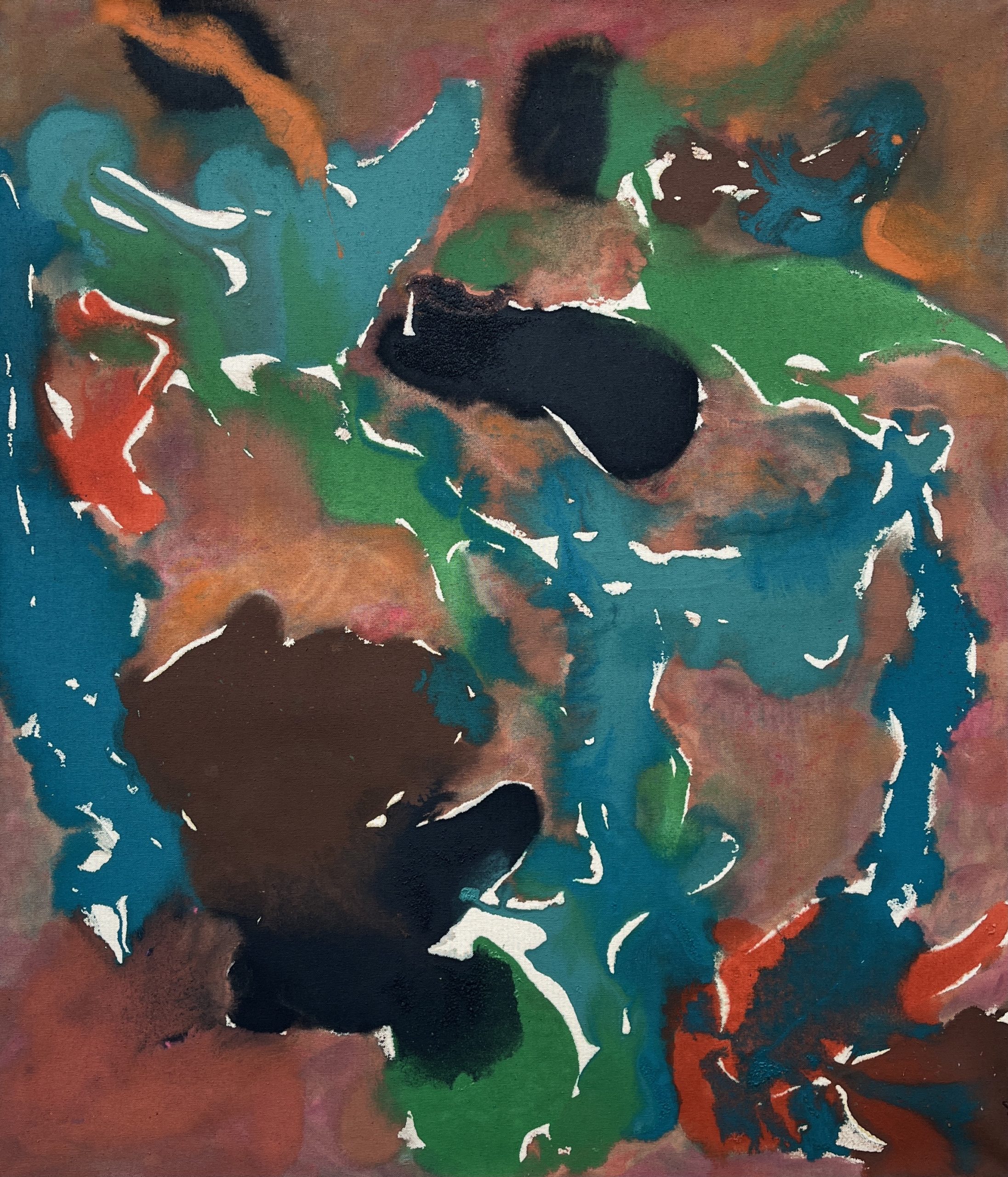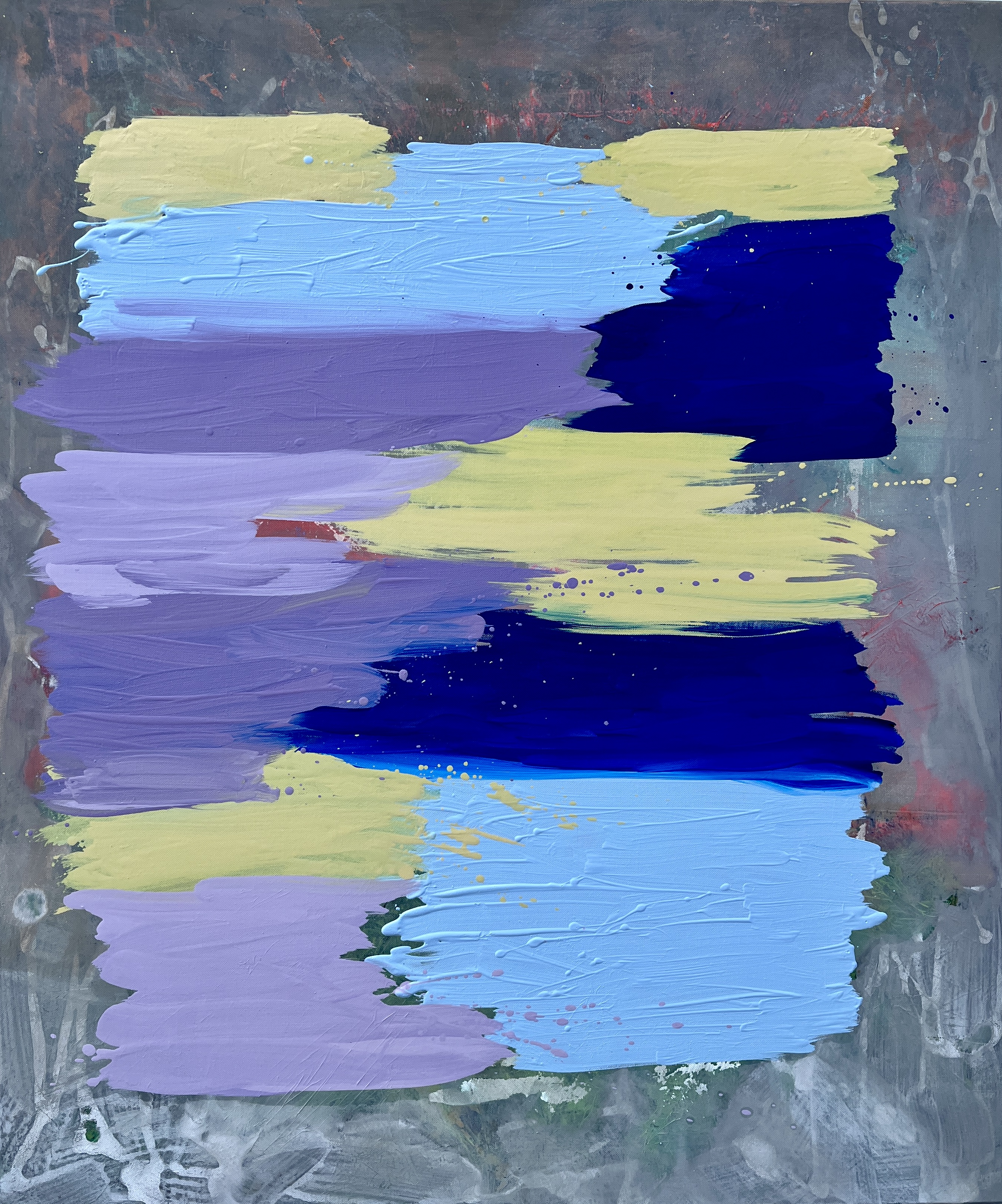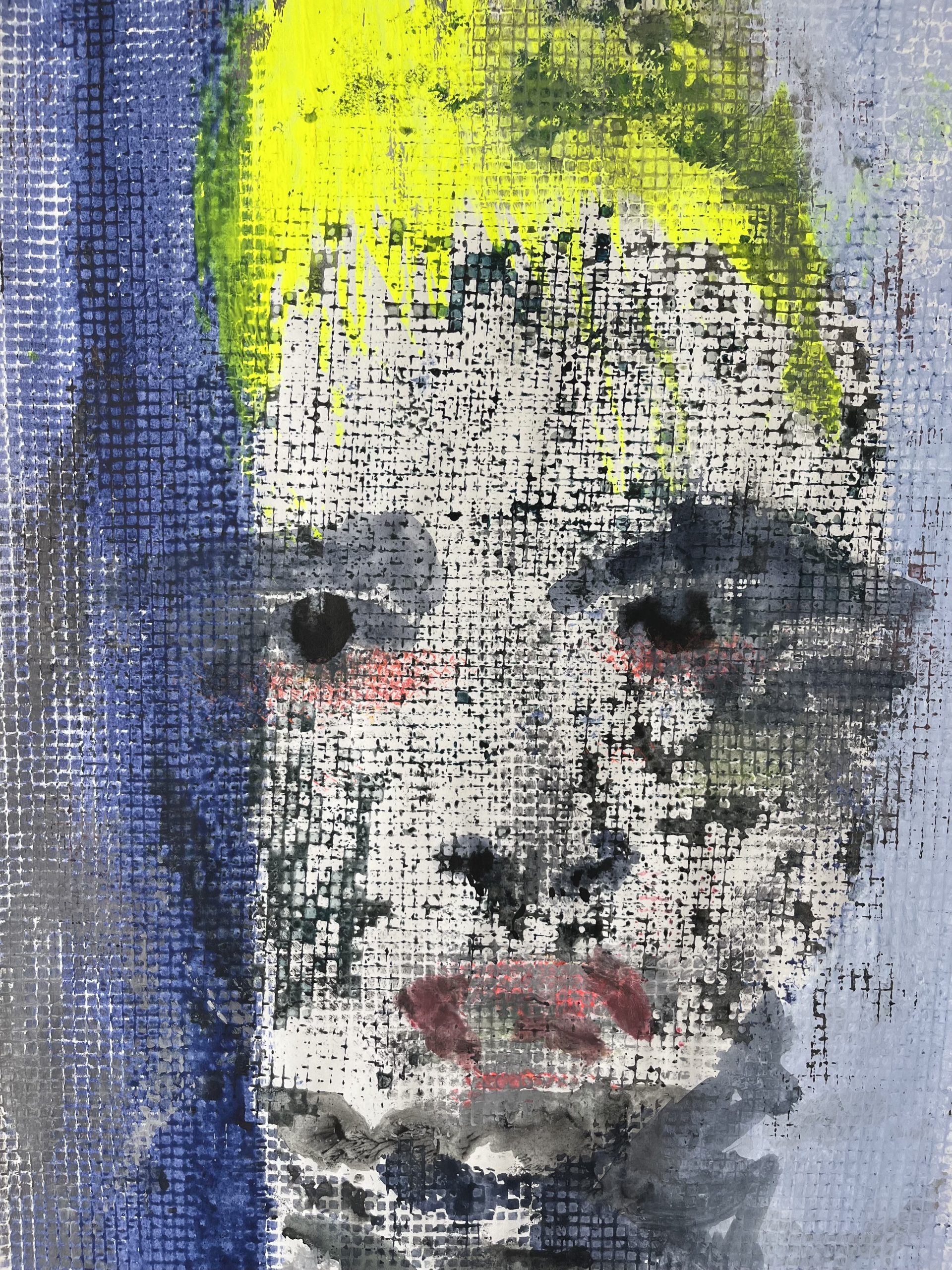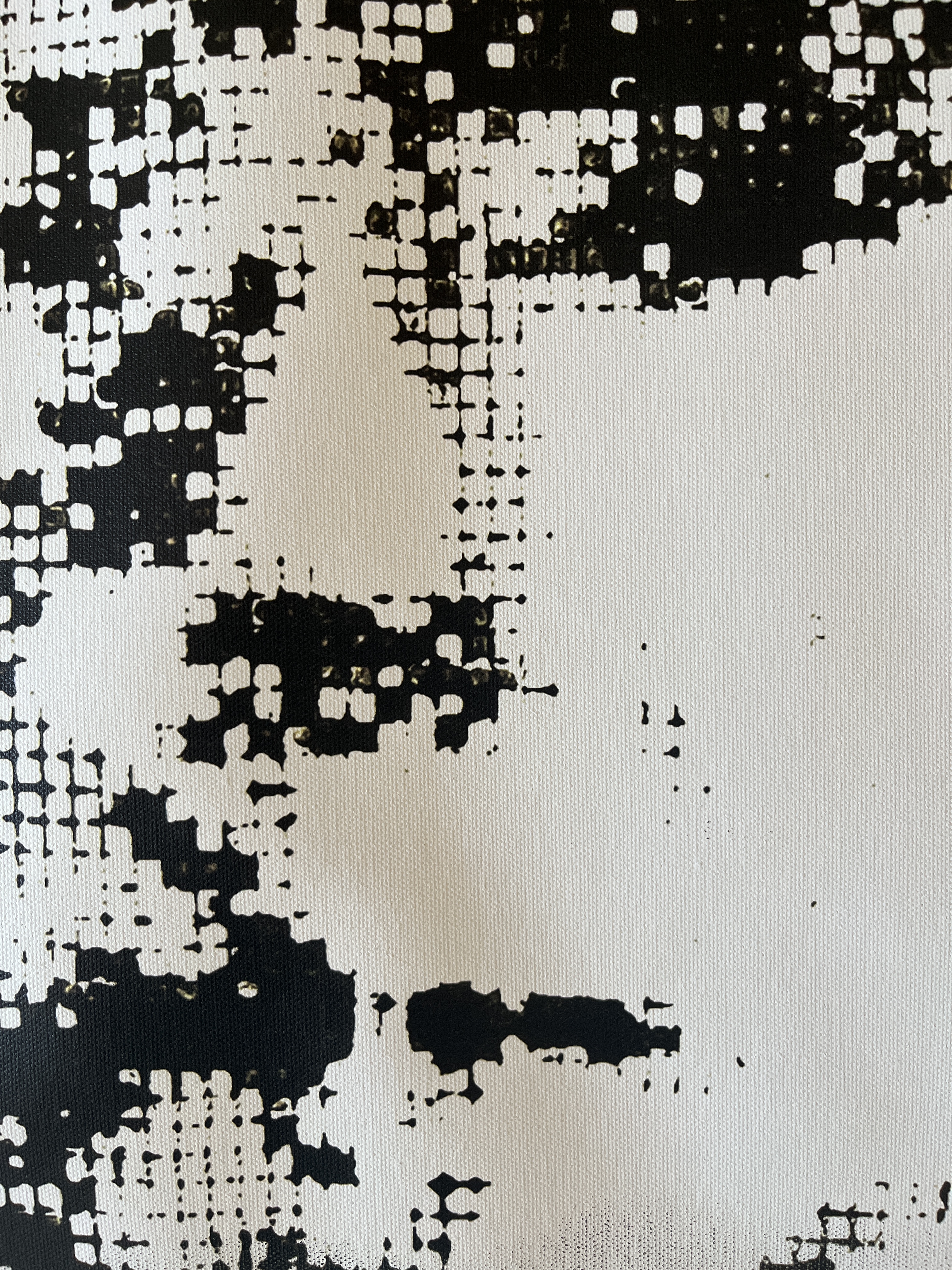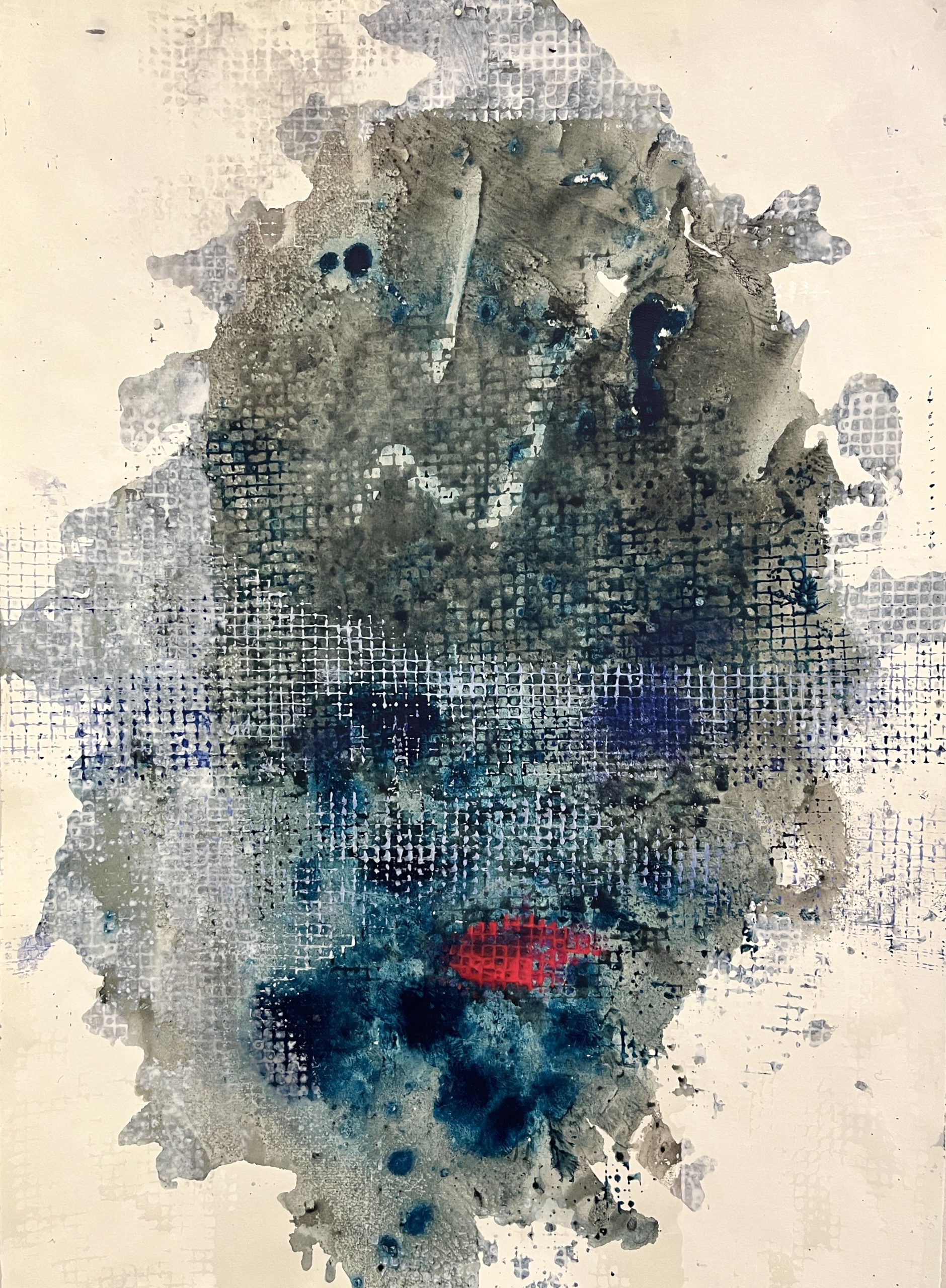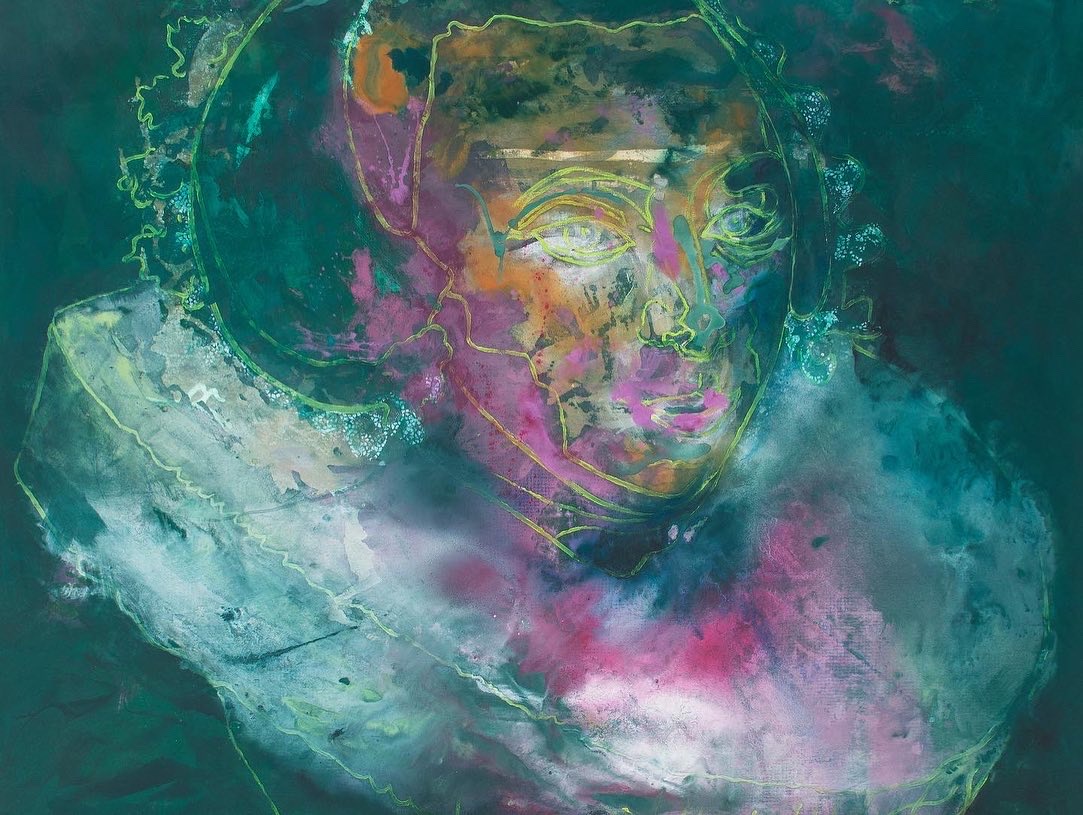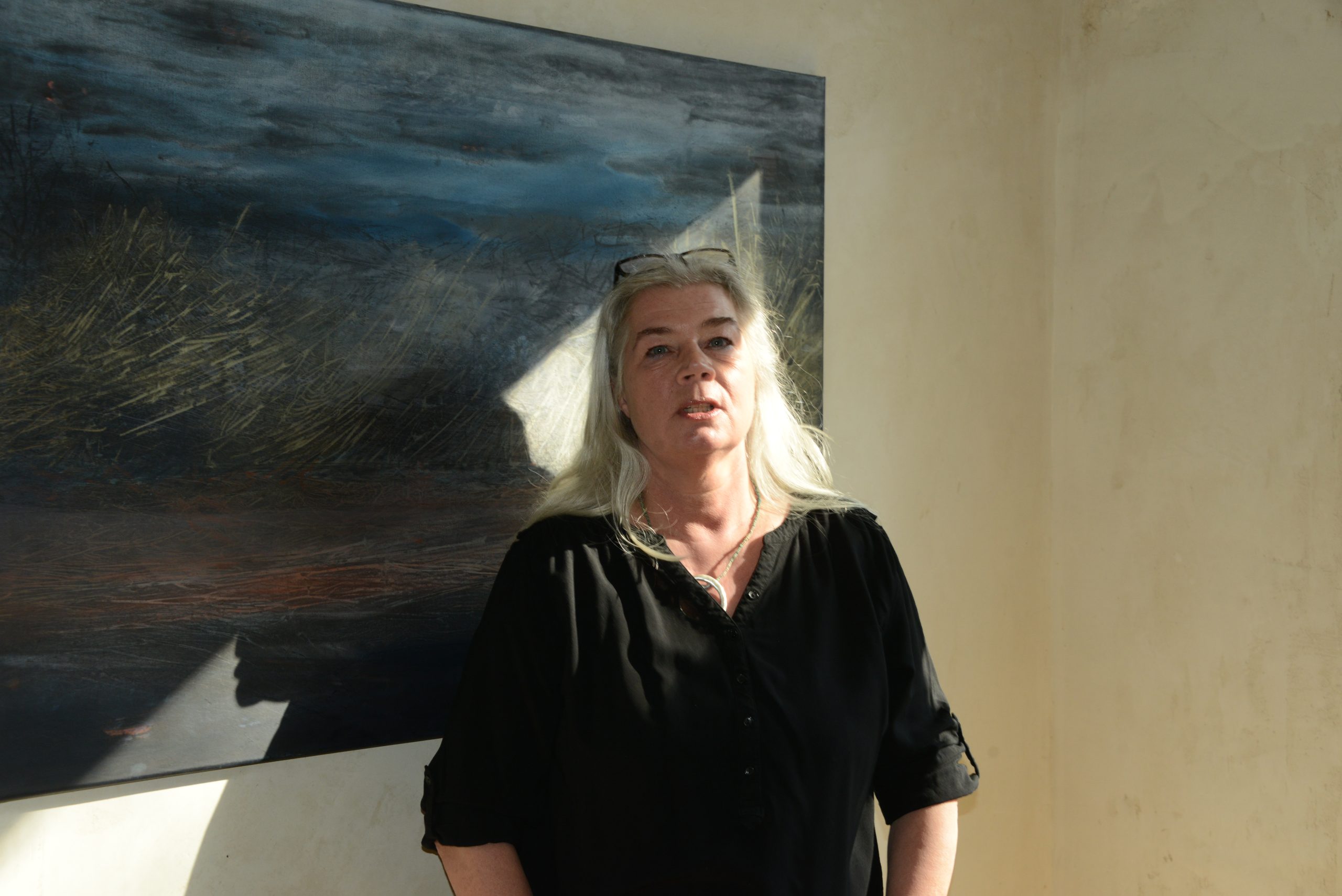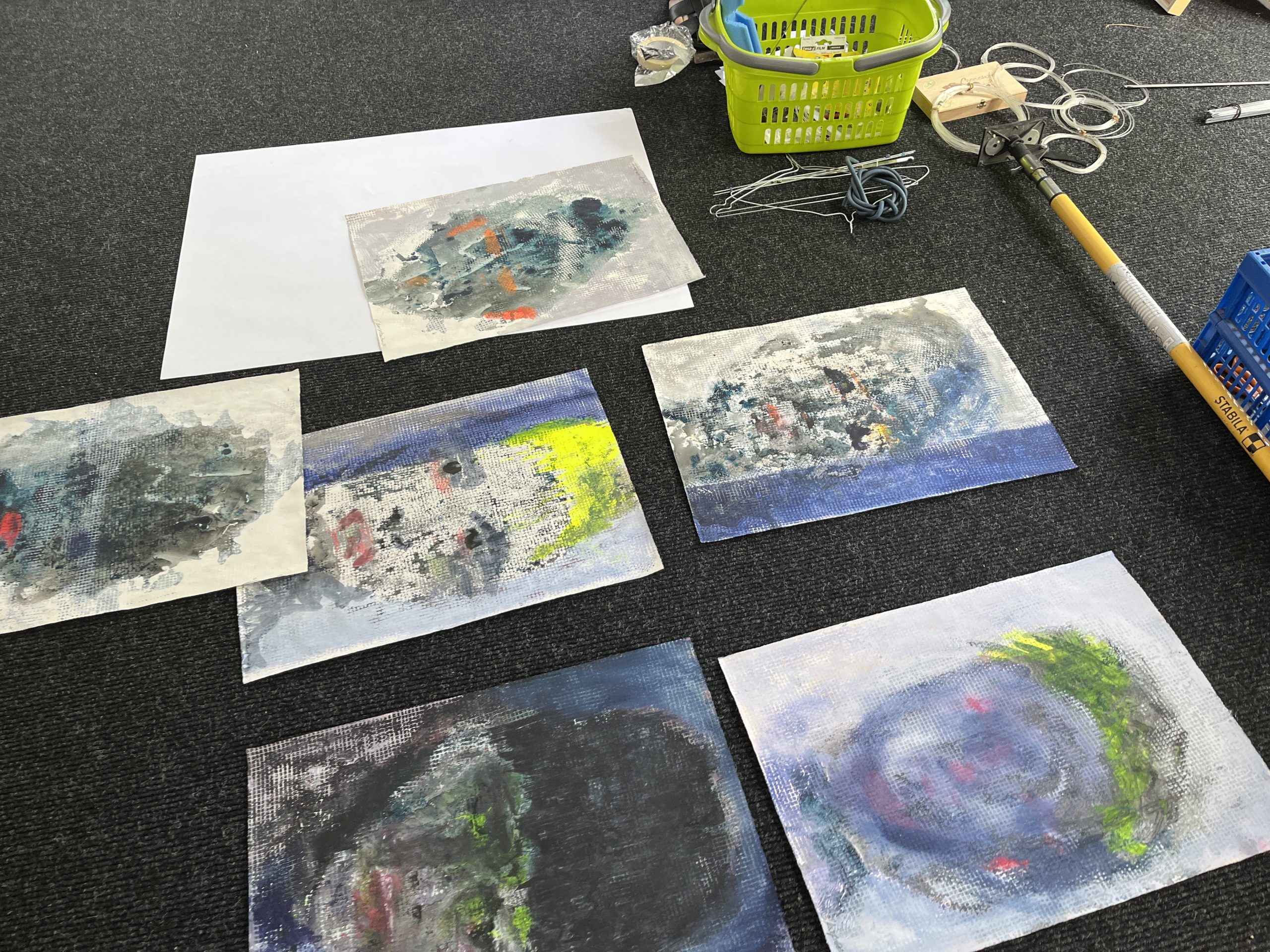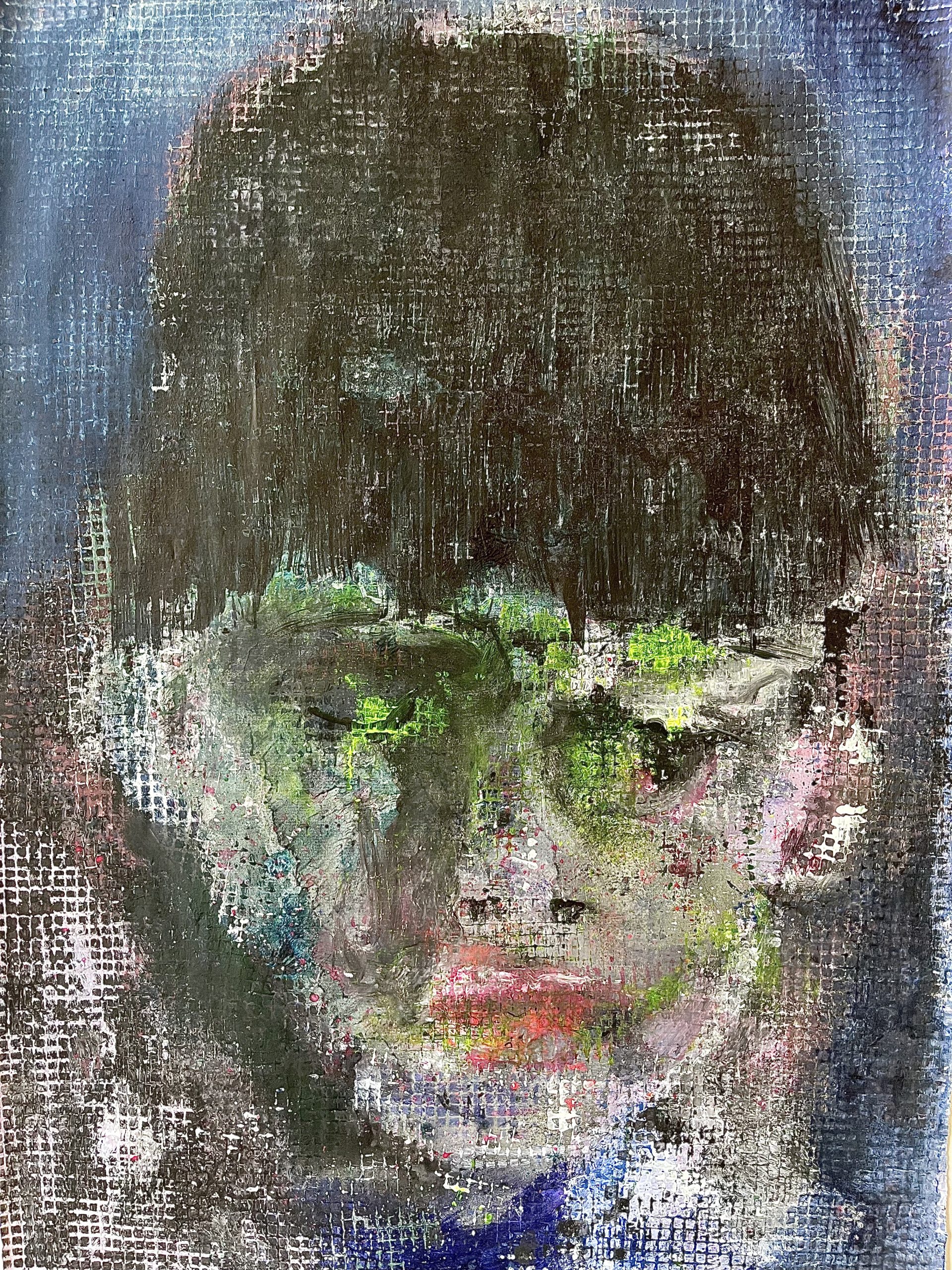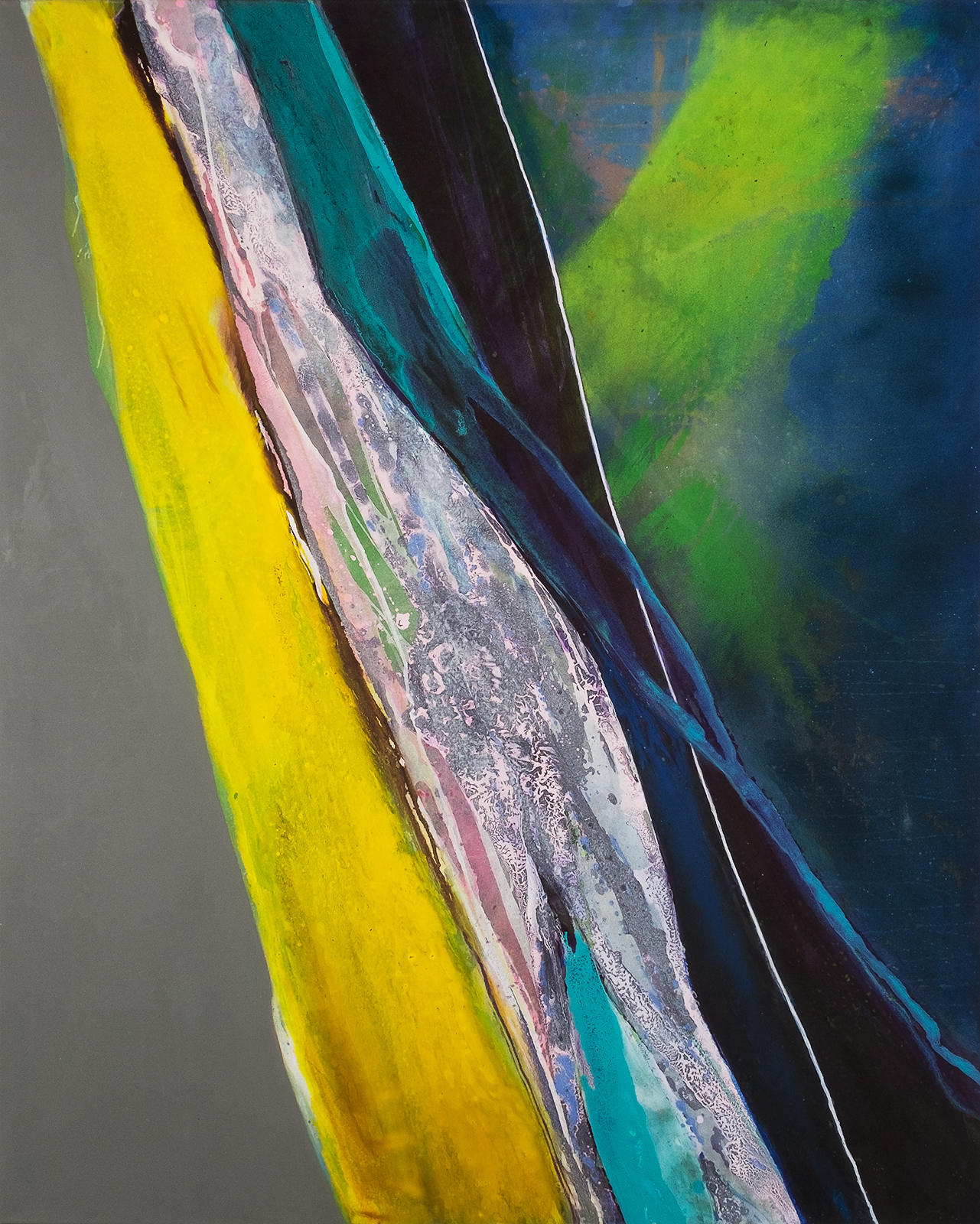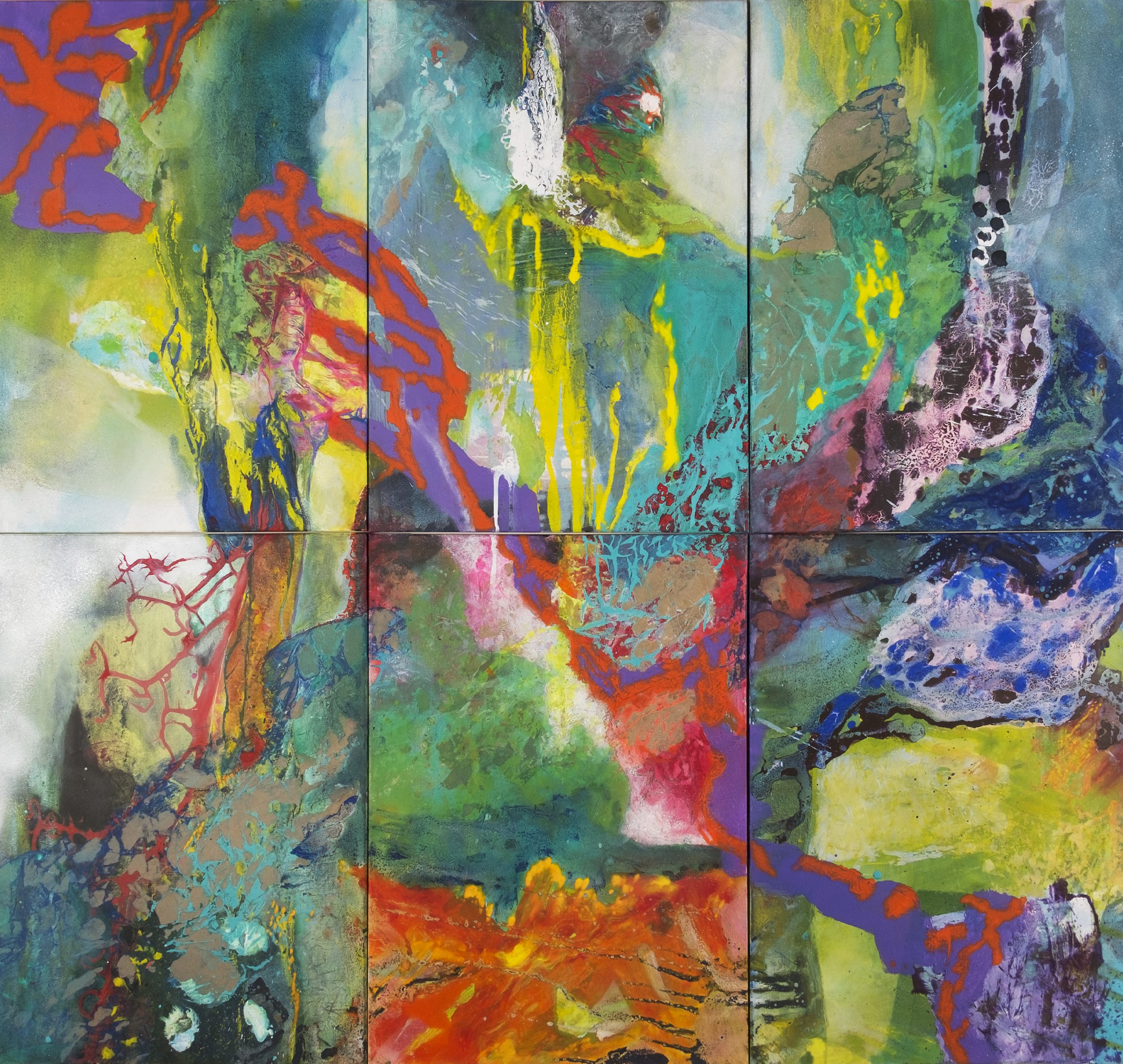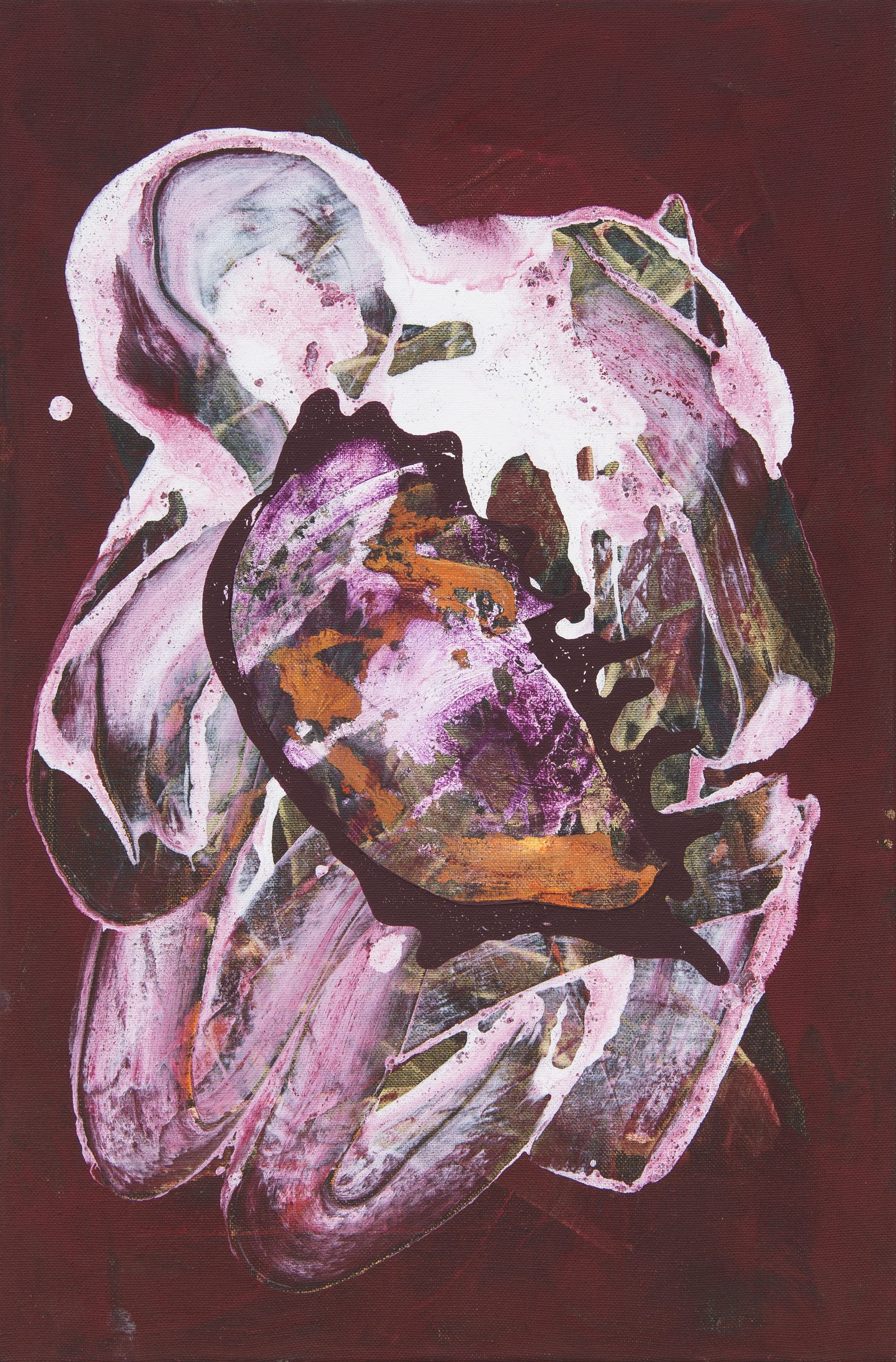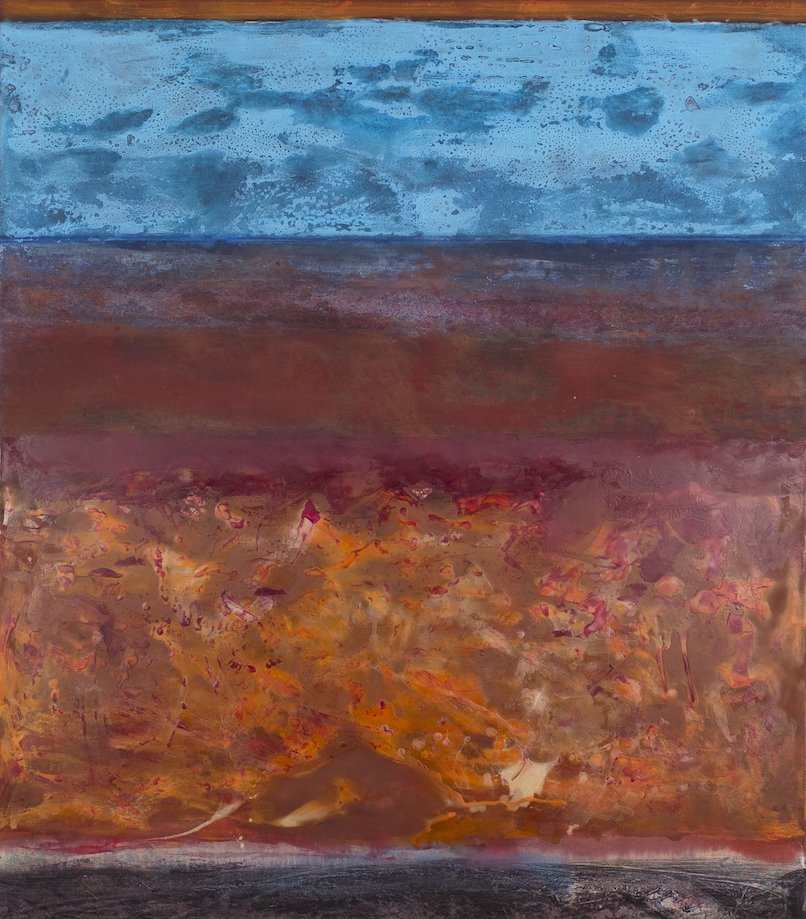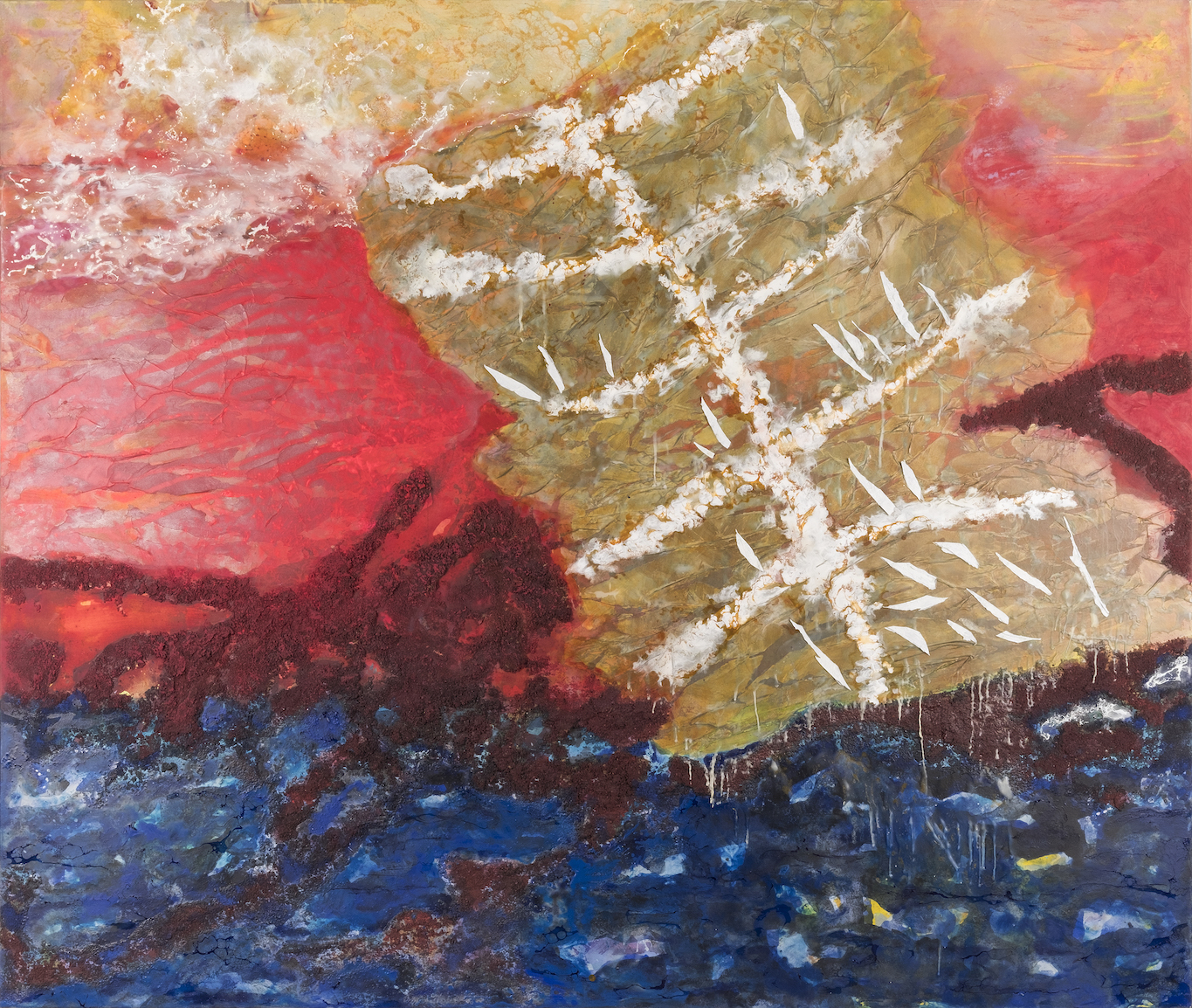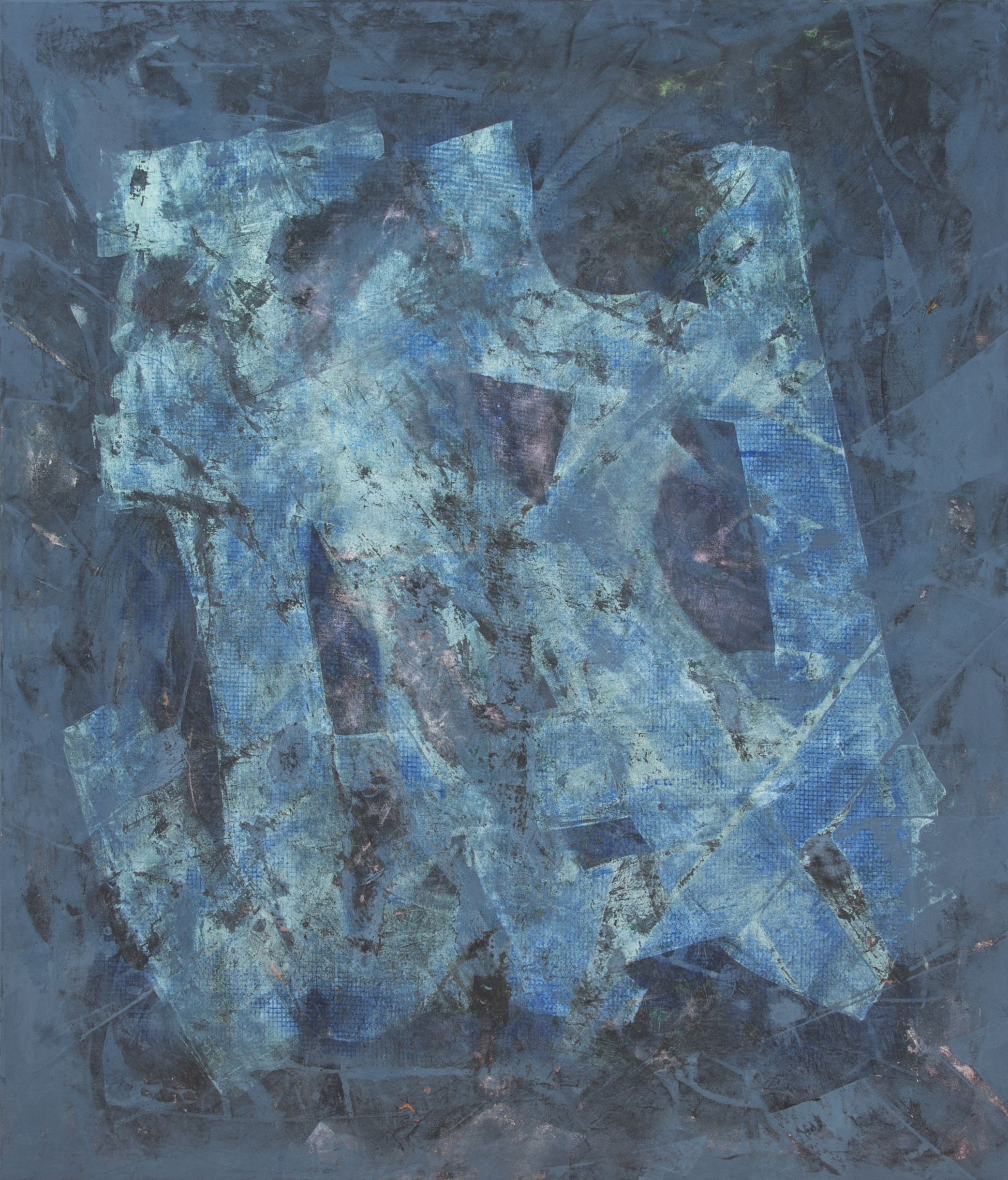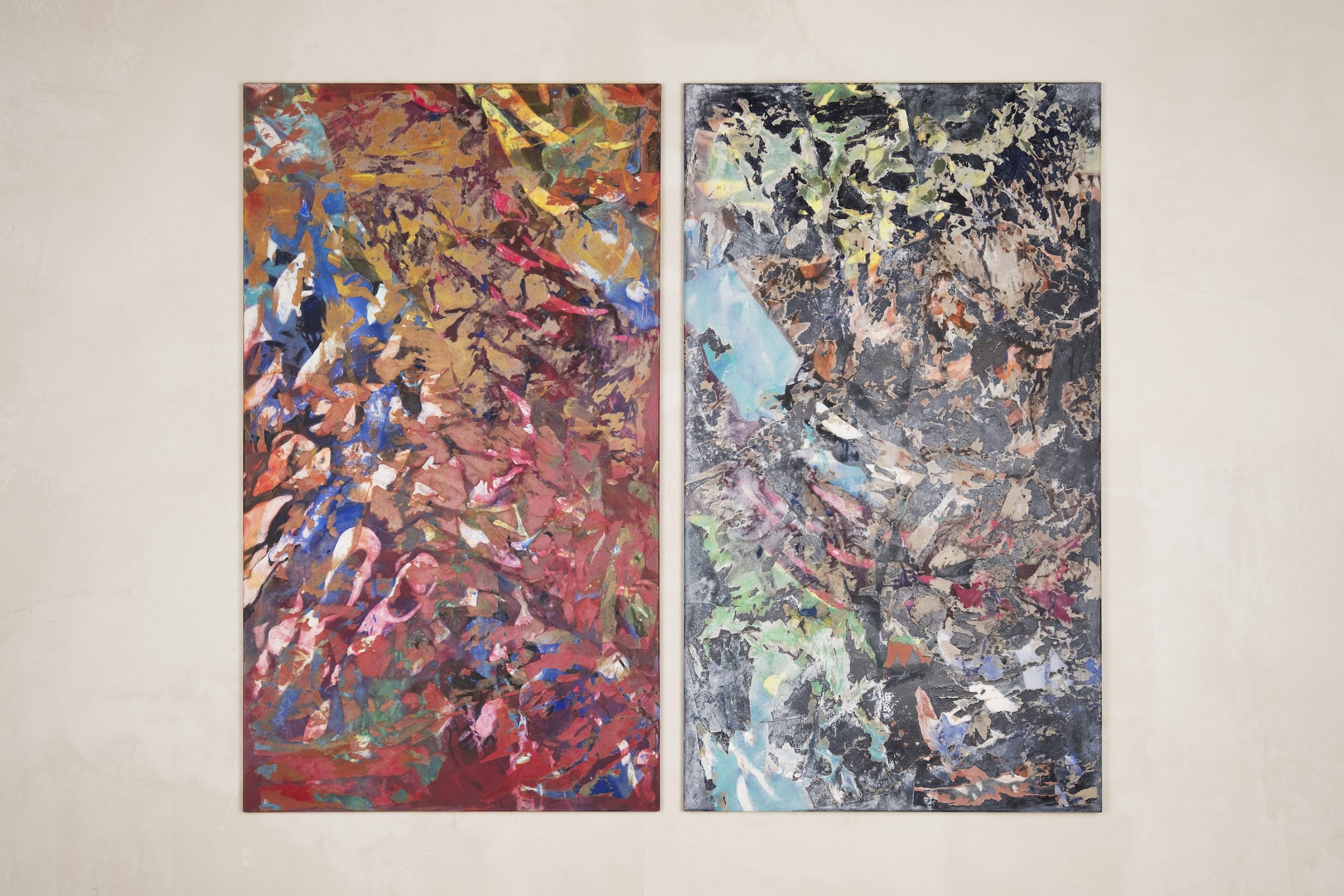 Works:
La danse des couleurs, 110×95 cm, 2023, Acrylicpainting on canvas
The sky above, 120×100 cm, 2023, Mixedmedia with acrylic and oil on canvas
Christiane, 59×42 cm, 2022, Mixedmedia on paper
Pink and Others, 80×60 cm, 2023, Oil on canvas
Else, 120×100 cm, 2022, Print on canvas
Charlotte, 59×42 cm, 2022, Mixedmedia on paper
Catharina in Grün, 200×165 cm, 2021, Mixedmedia on canvas
Artist in her studio in front of a picture
Artworks for an exhibition on the floor
Julia, 59×42 cm, 2022, Mixedmedia on paper
La danse des couleurs
Text. Dr. Lily Fürstenow
Various surfaces have different characteristics and properties that can influence the appearance and techniques used in painting. The choice of painting surface depends on the artist's preferences, the intended style or effect, and the medium used.
Susanne Meier zu Eissen-Rau's works explore the possibilities of pictorial representation, ranging from abstract non-figurative modes to portraiture that appears abstract  at first glance but reveals figurative elements from a distance. The artist's approach demonstrates her experimentation with various mediums, surfaces and styles. Her artistic practice showcases a versatile investigation of color, form, and perception.
Her mode of work is very much reminiscent of color field painting, employing large-scale canvases and washes of pastel hues to create abstract compositions that evoke emotional and spiritual responses. The artist has created both abstract and figurative paintings, often blurring the boundaries between the two. Her ability to transition between different styles and experiment with texture, and surface treatment is full of authenticity and what one would call female gaze. Portraits created with smudges of delicate color pigments, almost abstract in nature, render facial features placed on a grid-like structure of the medium surface. They evoke a unique and captivating visual experience. The use of  carefully selected tones and blurred colour pigments creates a soft and ethereal quality, allowing for a blend of colors and textures that contribute to the abstracted appearance of her portraits.
The grid-like background structure of the medium surface provides a framework for organizing the faces, creating a sense of order and precision within the overall composition. This approach can enhance the portrait's abstract qualities, as it introduces an element of geometric structure into the portrait.
The eyes are hypnotizing and staring back at the viewer. They play a crucial role in capturing attention and establishing a connection between the artwork and the audiences. The gaze of the portrayed becomes the focal point, drawing the spectator's attention and creating a sense of intimacy. The captivating and staring look can evoke a range of emotions, from intrigue and fascination to a sense of being observed or engaged in a dialogue with the subject.
Visual vibrancy gives Susanne's works immediately recognisable quality. Her potraits focus on the inner emotional states of the sitters giving less information about their age or gender, it's the psychological tension rendered through colours and surfaces that matters in understanding her protagonists. Probably it's the fascination with the subconscious that resonates with the introspective and hypnotic qualities of her portraits. The artist's abstract works reinvestigate the long tradition of non-figurative painting often reminiscent of the artistic heritage of Helen Frankenthaler with her colour experiments and unconventional versatility of artistic practice. 
BIOGRAPHY
Susanne Meier zu Eissen-Rau
I am an female artist from Germany and studied at the art academy in Münster. Currently I live
and work in Wuppertal. There I am co-founder of Kunstraum Eckart- a place for art and culture.
Biography
1963 born in Münster
1983 Abitur
1983-85 Studies of German and Social Sciences, WWU Münster
1986-92 Studies at the Düsseldorf Academy of Art, Münster Department
since 1.01.1990 Self-employed teaching activities in family education centres-subject area painting,lecturer/museum-pedagogical activities, studio and exhibition work
14.12.1992 Final examination at the Academy of Arts Münster, diploma
1994 Studio scholarship from the city of Münster              
since then: teaching activities, continuation of studio and exhibition activities 
2019 Co-founder of the Kunstraum Eckart, Wuppertal 
Exhibitions
1991 Wewerka – Pavillon, Münster, " über Kreuz " (across the cross)
1992 Examination exhibition " Relief and Image 
1998 " Chronos " , a project in the framework of the anniversary events
                  of the city of Münster " 350 years of the Peace of Westphalia ".
2000 Exhibition of works, Münster Chamber of Crafts
1997-2009 Personal exhibitions in the Noran Gallery in Münster,
                  Panker, Lübeck and the Torhausgalerie in Lower Saxony
since 2012 Participation in WOGA Wuppertal at the locations:
2012 Alte Freiheit 26, Wuppertal, Schwebebahnbahnhof HBF.
2013 Alte Backfabrik, Marienstrasse
2014 Colsmann and Walter, Arrenberg, floor exhibition 
2015 Visual Academy, Arrenberg
2020 " Moments " , Kunstraum. Eckart, Wuppertal 
2021 " T(h)ree seconds " , Gallery ryżek wort+bild, Wuppertal
2022 " Works with title " , Kunstraum. Eckart , Wuppertal 
Exhibition participations
1994 Kunstverein Gelsenkirchen /Städt. Museum, " Experienced Spaces "
1995 Gustav-Lübcke-Museum, Hamm, " Here and Now ", Germany
1996 Municipal exhibition hall at the Haverkamp, Münster 
               "Studio scholarships from the city of Münster 1994-1996
1999 Gustav-Lübcke-Museum, Hamm, " Here and Now "
                Beckum City Museum, Beckum, " Here and Now "
                Wilhelm-Morgener-Haus, Soest, " Here and Now "
2018 Sparkassenforum am Islandufer, Wuppertal, " Am Arrenberg – Art, Neighbourhood
                and Artists "
2018 Philoart Gallery, Wuppertal, 8 artistic positions 
2020 Open-air exhibition on large posters in the urban space of Wuppertal, " Out and about – Art
                goes out "
Statement: 
Ich bin eine Künstlerin aus Deutschland und habe an der Kunsthochschule in Münster studiert. Derzeit lebe und arbeite in Wuppertal. Dort bin ich Mitbegründerin des Kunstraums Eckart – ein Ort für Kunst und Kultur.
Meine Arbeiten entstehen in Serien. Oft sind es visuelle Eindrücke, die mich interessieren. Meine subjektiv erlebten Empfindungen oder Erinnerungen.
Abstraktionen: 
In einer dieser dieser Serien handelt es sich um abstrakte Bilder und die dahinter stehenden Emotionen. Es sind subjektive Reaktionen und malerische Äußerungen auf die Gegenwart und sehr situativ. Meine abstrakten Gemälde sind eine Form, die die Verwendung von Farbe, Form, Textur und anderen visuellen Elementen betont, um eine ungegenständliche oder nicht-gegenständliche Komposition zu schaffen.
Die Maltechnik ist für mich immer wieder ein Moment der Herausforderung und ein weiteres Feld der künstlerischen Untersuchung. Ich verwende dabei sehr unterschiedliche Techniken, experimentiere und lote die Möglichkeiten aus.
Portraits: 
Meine Portraits interessiert es nicht, wie sie aussehen. Sie interessiert die Anschauung. 
Die Vorbilder der Portraits stammen aus unterschiedlichen vergangenen Zeiten, gar Epochen.
Manches Halbportrait erinnert an bekannte Personendarstellungen von Bildern früherer Kunstströmungen. Manche sind frei erfunden.
Gemeinsam ist ihnen die Gestaltung mit einem Gitternetz, als seien sie verpixelt. 
Das referiert auf neuere, aktuelle Sehgewohnheiten.
Die Gestalt erscheint lebendig und je nachdem aus welchem Blickwinkel und bei welchem Lichteinfall das Bild betrachtet wird verändert sie sich.
Statement: 
I am an artist from Germany and studied at the Kunsthochschule in Münster. I currently live and work in Wuppertal. There I am co-founder of the Kunstraum Eckart – a place for art and culture.
My works are created in series. Often it is visual impressions that interest me. My subjectively experienced sensations or memories.
This series is about abstract paintings and the emotions behind them. They are subjective reactions and painterly expressions to the present and very situational. My abstract paintings are a form that emphasises the use of colour, shape, texture and other visual elements to create a non-representational or non-objective composition.
Painting technique is always a moment of challenge and another field of artistic investigation. I try very different techniques, testing and experimenting each time anew.
My portraits are not interested in how they look. They are interested in how they are looked at. 
The models for the portraits come from different past times, even epochs.
Some half-portraits are reminiscent of well-known portrayals of people in paintings of earlier art movements. Some are freely invented.
What they have in common is the design with a grid, as if they were pixelated. 
This refers to more recent, current visual habits.
The figure appears alive and changes depending on the angle from which the picture is viewed and the incidence of light.