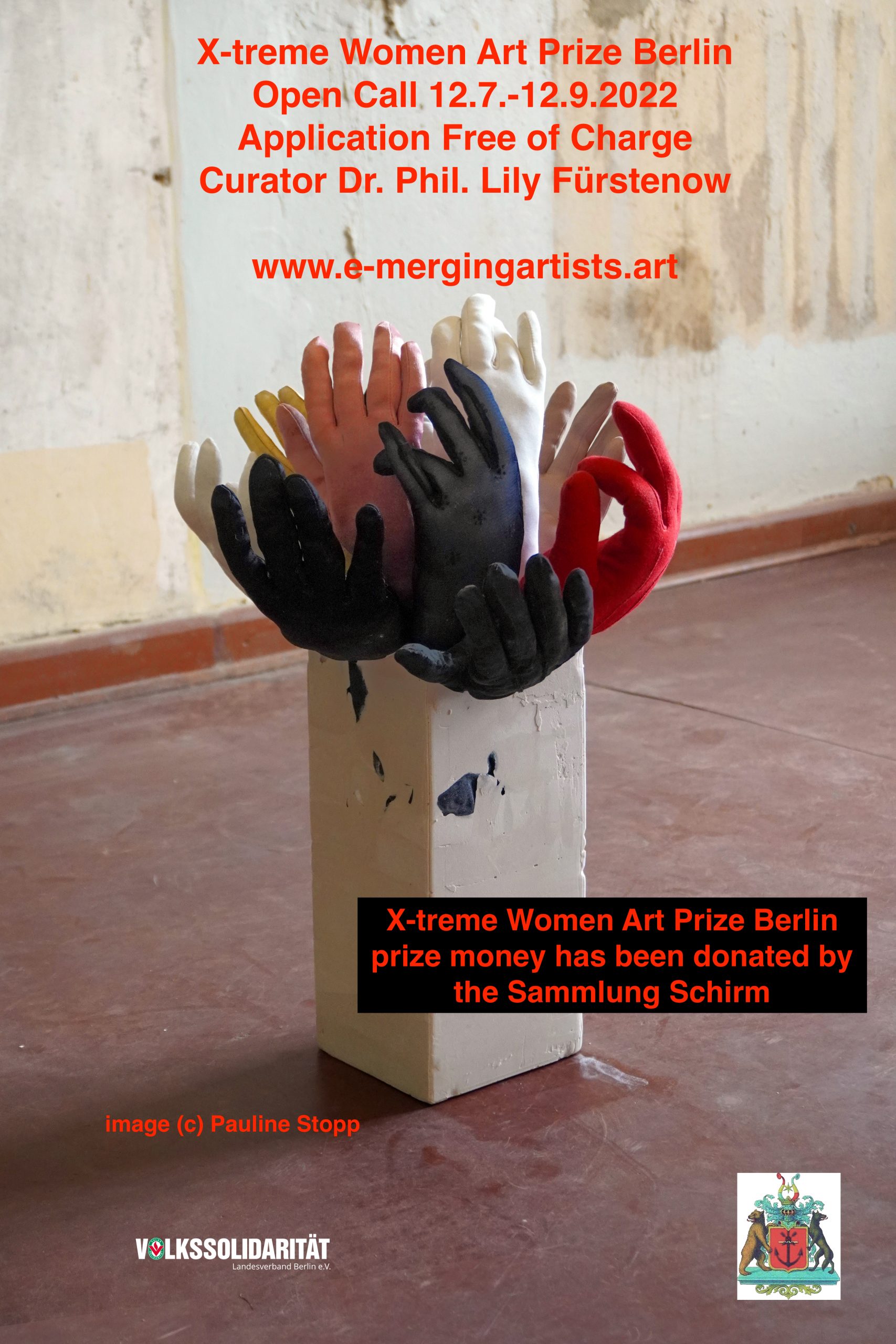 Berlin ist weltweit einer der wichtigsten Orte für zeitgenössische Kunst. Extreme Bedingungen erfordern extreme Maßnahmen. X-treme Women Art Prize Berlin ist initiiert, um Frauen der zeitgenössischen Kunst in Berlin zu unterstützen. Organisiert wird er von der Kuratorin Dr. phil. Lily Fürstenow und der Künstlerin Martina Singer – Stipendiatinnen des Bundesprogramms Neustart Kultur / Deutschen Künstlerbundes, die 2021 einen Teil ihrer jeweiligen Stipendien für die Preisgelder der Gewinnerinnen zur Verfügung gestellt haben. Der Frauenkunstpreis wird in diesem Jahr zum zweiten Mal vergeben und hat zum Ziel, die künstlerische Praxis von Berliner Künstlerinnen in Zeiten von Krieg, wirtschaftlicher Instabilität, Geschlechterkluft und Postpandemie zu erforschen und zu fördern.
Die Teilnahme am Wettbewerb ist kostenlos.
Alle Formate sind willkommen. Teilnahmeberechtigt sind Künstlerinnen aus Berlin (leben und arbeiten in Berlin), unabhängig von Alter, Nationalität oder Herkunftsland.
Unsere Idee ist es, die Sichtbarkeit von Künstlerinnen zu erhöhen, die aufgrund der Haushaltskürzungen im Berliner Kunstsektor, des Mangels an angemessenen Räumen, die sich auf die Präsentation zeitgenössischer Künstlerinnen konzentrieren, und der Intransparenzen in den Arbeitsmechanismen der Berliner Kunstinstitutionen, die für die künstlerischen Programme und die Ausstellungsplanung verantwortlich sind, stark unterrepräsentiert sind.
Die Preise: 
1. Preis – 600 EUR
2. Preis – 250 EUR
3. Preis – 150 EUR 
Die Preisträgerinnen werden in den öffentlichen Räumen der Volkssolidarität Berlin-Mitte und online auf www.e-mergingartists.art ausgestellt. Wenn Sie nicht einverstanden sind, dass Ihre Arbeit online gezeigt wird, teilen Sie uns dies bitte bei der Einreichung mit.
Für die Teilnahme senden Sie bitte 5-10 Bilder Ihrer Arbeiten im Jpeg-Format (nicht mehr als 1200 Pixel). Geben Sie Informationen zu Ihren Arbeiten an – Titel, Jahr, Medium, Technik und Größe, für Videos, VR, KI formate oder Dokumentationen von Performances – nur die jeweiligen Links zu den Werken (wichtig, bitte geben Sie ggf. die Zugangspasswörter für die Ansicht der Werke an)
max. 500 Wörter, die Ihr Werk beschreiben;
Max. 1 Seite Biographie
Senden Sie alle erforderlichen Unterlagen an die folgende Adresse: liliartresearch@yahoo.com and to singer.fairyart@gmail.com     Unvollständige Einsendungen werden nicht zum Wettbewerb berücksichtigt. Einsendeschluss – 12.9.2022.
Alle eingereichten Arbeiten werden aus Gründen der Transparenz für die Dauer eines Monats online ausgestellt auf www.e-mergingartists.art
Jury:
Dr. Eckhard Fürlus / UdK Berlin
Cathrin Mamoudou /Volkssolidarität Berlin/
Alina Nosow
Martina Singer
Pauline Stopp
Paula Carralero Bierzynska
Das Preisgeld für den X-treme Women Art Prize Berlin wird von der Sammlung Schirm gestiftet.
EN
Berlin is the global place to be in contemporary arts. Extreme conditions call for extreme actions. X-treme Women Art Prize Berlin is initiated to support women in arts. It is organised by curator Dr. phil. Lily Fürstenow and the artist Martina Singer – winners of the scholarship of the Deutscher Künstlerbund / Bundesprogramm Neustart Kultur, who contributed in 2021 part of their respective scholarships to allocate the prize money for the winners. This year it is the 2nd edition of the Women Art Prize, aiming to research and support the artistic practice of Berlin women artists in the times of war, economic instabilities, gender gap and post-pandemic condition.
Participation in the competition is free of charge. All formats are welcome. Eligible are Berlin based women artists (who live and work in Berlin), regardless of age, nationality or country of origin.
Our idea is to increase the visibility of women artists, who are severely underrepresented, due to the budgetary cuts in the Berlin arts sector, insufficiencies of adequate spaces focusing on showing contemporary women artists, intransparencies in the mechanisms of operation of Berlin art institutions responsible for the artistic programs and exhibition plannings.
The Prizes: 
1st Prize –  600 EUR
2nd Prize – 250 EUR
3rd Prize – 150 EUR 
The winners will be exhibited at the public spaces of the Volkssolidarität offices in Berlin-Mitte and online on www.e-mergingartists.art  If you do not wish to have your work exhibited online, please let us know when submitting your work.
For participation, please send 5-10 images of your work in Jpeg Format ( not more than 1200 pix). Important: indicate info to your works – Title, Year, Medium, Technique and Size; for VR, AI formats, videos or documentations of performances – only the respective links to the works (important, please provide, if necessary, the access passwords for viewing the works)
max. 500 words describing your work;
Max. 1 page biography
Please send all the required data to the following address: liliartresearch@yahoo.com and to singer.fairyart@gmail.com   Incomplete submissions won't be accepted for the competition. Application deadline: 12.9.2022.
All submitted works will be exhibited online on www.e-mergingartists.art for the duration of one month for the sake of transparency.
The prize money for the X-treme Women Art Prize Berlin is donated by the Sammlung Schirm.
---
Jury:
Dr. Eckhard Fürlus / UdK Berlin
Cathrin Mamoudou /Volkssolidarität Berlin/
Alina Nosow
Martina Singer
Pauline Stopp
Paula Carralero Bierzynska
The winners of X-treme 2021 were:
Pauline Stopp
Alina Nosow
Sarah Degenhardt
 Image. Pauline Stopp. Odem. Gips, Handschuhe. 2021